Training camp begins at the end of the month for the Boston Celtics and each weekday leading up to the formal start of the 2013-14 campaign, we'll dive into our Celtics Mailbag and tackle a camp-related question: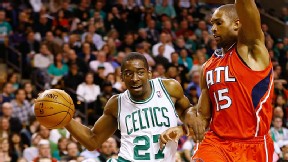 Jared Wickerham/Getty Images
Jordan Crawford: Point guard?Q: How do you see Jordan Crawford's season panning out? Will he soak up some minutes while Rajon Rondo is out, or is he not in coach Brad Stevens' plans? -- Nick (Sydney, Australia)
A: The Celtics' traffic jam at the shooting guard position has left many to wonder if Crawford will stick on the roster throughout the 2013-14 season. The addition of MarShon Brooks muddies Crawford's role at an already crowded position that includes Avery Bradley, Courtney Lee, and Keith Bogans.
With Boston desperate for a wild-card scorer at last February's trade deadline, the Celtics begrudgingly traded away veteran center Jason Collins (and injured Leandro Barbosa) to land the enigmatic Crawford. Crawford had occasional bursts of contribution, but had a limited postseason role (11.8 minutes per game) and his most noteworthy moment came after the buzzer of Game 5 in New York where his postgame jawing at Carmelo Anthony went viral. Last week at a youth basketball clinic in Dorchester, Crawford said he's trying to be more of a leader on a young team (which was met with snickers by most of his pundits).
If you're Crawford, this is an important season. He's essentially in the final year of a rookie deal with a $3.2 million qualifying offer looming for the 2014-15 season. Crawford has the reputation of being an aloof scorer whose best ball came on bad teams. Bottom line: The soon-to-be 25-year-old guard has something to prove this year.
Crawford's career shows a low-efficiency scorer who can't consistently shoot 3-pointers (career 30.1 percent) and seemingly thrives in the safety of lopsided games. The one intriguing aspect of his skill set remains his passing ability, which is vastly underrated and left Celtics president of basketball operations Danny Ainge gushing last year that Crawford was potentially the best passer on the team.
For the 2012-13 season, Crawford averaged a career-best 4.7 assists per 36 minutes between Washington and Boston. His assist percentage was a career-best 25.5 percent with the Wizards. For perspective, Crawford's 19.1 assists percentage with Boston last season was fourth best behind Rondo (49.3), Paul Pierce (25.1), and Terrence Williams (19.7).
Williams was a victim of numbers (and a nonguaranteed contract), but the Celtics could consider putting Crawford on the Williams plan. Williams, a former lottery pick, viewed himself as a typical NBA swingman, but Ainge and the Celtics implored him to work as a ball-handler, which opened doors for him (including in the postseason where he competed with Crawford for backcourt minutes).
If I'm Boston brass, I'm highlighting that gaping void at backup ball-handler to Crawford (and the others in the shooting guard mix) and suggesting there's minutes to be won for those that can throttle their own offensive exploits and show an ability to get others involved. Undrafted rookie Phil Pressey is the only pure ball-handler behind rehabbing Rondo.
For Crawford, the leash is likely shorter than most. His contract status puts the onus on him to make himself part of Boston's future. Otherwise, his $2.2 million salary this season is more likely to end up as an asset to combine as part of a larger move.
The question is whether Crawford could remain committed to being a facilitator and take higher-percentage shots. In a way, it's asking him to reshape his game. What's more, after putting up solid defensive numbers in his Boston infancy, he regressed and finished the season allowing 0.902 points per play, ranking him in the 29th percentile among all players for his abbreviated time in Boston. He needs to invest greater on that side of the ball if he's going to be inconsistent offensively.
The bottom line is there's an opportunity for Crawford here. Boston's roster makeup is working against him and his salary makes him a trade candidate, but Crawford will get a chance to earn minutes. His play will dictate if he sticks.