WALTHAM, Mass. -- Boston Celtics coach Brad Stevens is renowned for his work ethic and the past three months have admittedly been a crash course in prepping for his first NBA season. But if you have a vision of Stevens sitting in a dimly lit office, sleepily jotting down notes during an all-night film session, you might be a bit disappointed.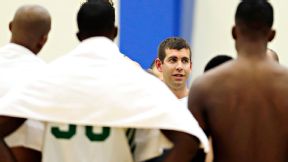 AP Photo/Charles Krupa
Coach Brad Stevens at work during training camp."I've been good, I sleep at night," said Stevens. "I'm not one of those coaches that can go two hours then wake up and be back in it. I'll have a couple nights that I won't sleep. As we get closer to the season, I'll probably be waking up with thoughts on my mind, and when I wake up, I'll be up. [But] I'm not a 2 a.m. to 4 a.m. sleeper by any means."
As Stevens navigates the transition from the college game to the pro game, one of his biggest obstacles is navigating a schedule that will see Boston play 90 games over the next six months. That includes something he hasn't encountered at the NCAA level: back-to-backs (22 of them, in fact). Add in the time zone ping-pong and game-heavy stretches in general, and sleep can be the toughest opponent for a first-time NBA coach.
Which is why Stevens has invested heavily this preseason in learning all he can about sleep and nutrition.
"I just talk to anybody I can find that might help us a little bit," said Stevens. "I talked to somebody about sleep. When I was at Butler, we had a nutrition specialist that we leaned on; we've got a nutritionist here that's fantastic. We've got a doctor here in town that has worked with us from a sleep standpoint for a long time and that's less about, 'Hey, mandate when guys go to bed and when they wake up.' It's more just building a schedule. Figuring out when you travel, what you do when you're out west and coming back, when you practice, [and] trying to get some rhythms from a sleep standpoint. It's an imperfect deal during this NBA schedule, the way it operates. But you try to make it as good as it can be."
Stevens admitted grasping the NBA schedule, and making sure he doesn't run his players into the ground, is a monster part of his transition. He's letting his eyes guide him early on. After two days of double sessions to open training camp in Newport, R.I., earlier this week, Stevens saw some of his guys were dragging with shaking their summer rust. He made Thursday a single session, easing things up a bit with an off day scheduled for Friday. He was rewarded Saturday when his team bounced back with an energy-filled double session.
For NBA coaches, there often aren't enough hours in the day. But Stevens is making sure he finds time for shuteye (after all, two young children at home make that difficult enough).
Does Stevens ever snap awake with some late-night/early-morning inspiration that he absolutely has to jot down? A new play? A lineup combination?
"I'm supposed to say I do, but I don't," admitted Stevens. "No, I don't do that stuff. I do get up and put something into my iPad, occasionally. Usually, I get up and walk downstairs and do that."
Bill Belichick used to suggest that he slept well before big games. Quoting his father, Steve, he would often suggest, "The hay is in the barn." The lesson: If you prepare well and maximize your available time, then there's no need to cram. Coaches can sleep well knowing they've done all they can to put their team in position to win.
And that's Stevens' coaching philosophy in a nutshell. Do everything he can to put his team in the best possible position to succeed.
More and more, the NBA is realizing that sleep is a performance-enhancing drug (the legal variety). More shuteye is helping ease the toll on players, both physically and mentally. With such a young team, the inclination might be to ignore something as minor as sleep. Young teams usually get pushed even harder in hopes of forcing improvement.
[Additional reading: The Boston Globe detailed how the Celtics approached sleep back during the 2009-10 season]