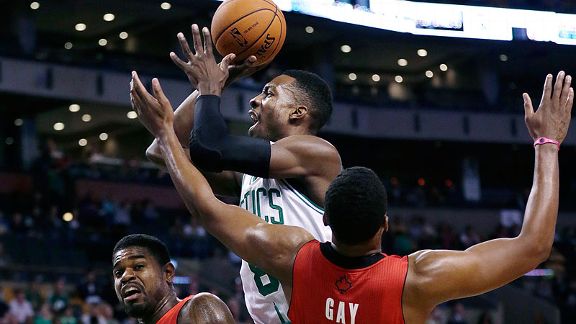 AP Photo/Charles Krupa
Jeff Green works through traffic Monday against the Raptors.BOSTON -- Rapid reaction after the Toronto Raptors defeated the Boston Celtics 97-89 in exhibition play on Monday night at TD Garden:


THE NITTY GRITTY
Gerald Wallace scored a team-high 16 points to pace four Celtics players in double figures, but Boston shot just 39.8 percent from the floor and dropped the first of four preseason games this week. Jared Sullinger added 14 points, 6 rebounds and 4 assists over 20 minutes (and was a team-best plus-9) to help Wallace fuel Boston's inspired bench effort. Avery Bradley scored 12 points (on 5-of-16 shooting) with 3 assists and 3 steals, while Kris Humphries added 11 points and four rebounds (though the starting unit that featured Bradley, Courtney Lee, Jeff Green, Brandon Bass and Humphries struggled mightily as a group). Tyler Hansbrough and Rudy Gay had 17 points apiece to pace the Raptors.
STEVENS COOL IN DEBUT
Wearing a black suit with a green-striped tie, Brad Stevens calmly navigated his NBA debut. He didn't panic when Boston fell behind by double digits early and kept coaching when the Raptors started to pull away late. Most importantly, he looked like he belonged on the bench and didn't make any obvious rookie mistakes while steering through his first 48 minutes at the pro level.
COACH RONDO ON BENCH
Rajon Rondo, inactive as he rehabs from ACL surgery, sat on the bench dressed in warmups and distributed advice to his teammates throughout the game. The Celtics had a pretty full bench as, not only are their 17 other players on the camp roster, but Stevens had three assistants on the bench with him in Ron Adams, Jay Larranaga and Micah Shrewsberry (Jamie Young, Walter McCarty and Ronald Nored sat behind the bench). The camp invites were relegated to the floor near the bench.
SLOW START FOR C'S
The Celtics missed their first seven shots of the game before Humphries broke up the shutout four minutes in with a 15-foot jumper. Even still, the Raptors were up double digits soon after (leading by as many as 12) and it was Boston's sub unit led by the three-man combo of Kelly Olynyk, Sullinger and Wallace that helped the Celtics rally back quickly. After trailing 14-2, an Olynyk layup with 3:20 to play in the first quarter had Boston on top 19-18.
LOOSE BALLS
The Celtics took good care of the basketball over the first 24 minutes (only three giveaways for four points), then got a bit sloppy in the second half and finished with 14 turnovers leading to 16 points. ... Green finished with a mere six points on 2-of-7 shooting over 23 minutes. ... Olynyk had a team-high five assists. ... Boston got hammered on the glass with Toronto owning a 46-26 advantage overall. ... The Raptors shot 52.1 percent from the floor. ... MarShon Brooks played only 2:27. ... Phil Pressey logged a DNP.
THE BOTTOM LINE
There's some good (second unit) and bad (the defense overall) that the Celtics can pluck from this one. For the first game from a new-look team with a first-year coach, it was about as up-and-down as you'd expect. The best thing for Stevens and his crew is that they now have 48 minutes of film to hack up and analyze. What's more, there's finally some lineup data the team can start to dissect as it starts the process of figuring out lineups and rotations.