BOSTON -- Before he coached his first game at TD Garden, new Boston Celtics coach Brad Stevens was playfully asked if he noticed the 17 championship banners hanging inside his new gym. Stevens said they "couldn't be further from my mind right now," while noting that he wasn't hired for what had happened in the past, but to try to get the team back to that level.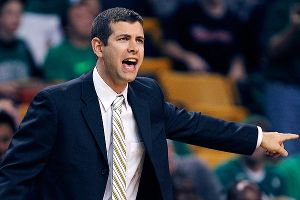 AP Photo/Charles Krupa
Brad Stevens barks out instructions during his NBA debut.And, let's face it, for Game 1 of his NBA odyssey, Stevens just wanted to make sure he looked like he belonged.
So even as he admits that he's still learning the intricacies of the NBA game, Stevens was his typical poised self throughout Monday's 97-89 exhibition loss to the Toronto Raptors. He didn't panic when his team fell behind early, and he coached his squad straight through the final buzzer. Better yet, he didn't have any obvious rookie moments.
He did admit he'll need the preseason to grasp the jump from the NCAA level.
"Really, really different," Stevens said. "Just because it's a 48-minute game, getting used to the timeouts. ... But, you know, it's a little unique; it's a little different. And I'll get used to those as we get on through. There's eight more minutes and a lot more possessions because of the 24-second clock, so getting a feel for that will hopefully -- I would like it to be done in the next seven [exhibition] games, but hopefully it doesn't last much longer than that. It is different. It's unique."
Plenty of yellow seatbacks greeted his debut, as most Boston fans elected to watch postseason baseball rather than preseason basketball. That gives Stevens some time to get comfortable. While there was a mix of positives and negatives to pluck from Monday's game, it offers him a base to judge his team and a chance to start determining roles and playing time moving forward.
And Stevens was planning to dive right into the film after Monday's loss, with the team scheduled to be back on the practice floor on Tuesday at noon.
"I won't be able to sleep if I don't watch it tonight and have practice ready for tomorrow," he said.
HUMPHRIES EYES IMPROVEMENT
Celtics big man Kris Humphries has been sporting a bruised left eye the past couple of days. A reporter jokingly asked if it was the result of another scuffle with Rajon Rondo.
"That's actually what [Keith Bogans] said," Humphries replied. "No, no."
So who did it?
"I don't know. No one will take credit," Humphries said. "[Jared Sullinger] was down there, there was another guard down there. There was a few people in the paint, it just happened."
Sullinger swore it wasn't him. Regardless of the culprit, it didn't detour Humphries in his Boston debut. He started at center Monday and registered 11 points and four rebounds over 24 minutes, while taking a couple of charges.
But his night wasn't over after the buzzer. Humphries hopped on the treadmill after the game to work on his conditioning.
"It felt good to get out there with my teammates," he said. "We've been doing a lot of drills and stuff. Just to get out and play. We want to play at a faster pace. Jeff [Green] and I actually just did a little extra conditioning after the game to kind of get us going a little bit more so we can build to the start of the season. We got on the treadmill. Good old-fashioned treadmill sprints."
LOOSE BALLS: PLAYING TIME IN FOCUS
* Guard MarShon Brooks logged only 2:27 of floor time in his Boston debut, while undrafted rookie free agent Phil Pressey was a healthy DNP. Stevens said not to read too much into it.
"We're going to get different combinations and lineups in," Stevens said. "I told Phil Pressey before the game that he probably wasn't going to play a lot and would probably play a lot more Wednesday night. That's just part of it. One of the things we have is 13 healthy bodies and we need to see what they can all do, and what they can do together."
* The Celtics didn't have a particularly crisp offensive night, but Stevens liked the way his team shared the ball.
"Twenty-five assists on 33 field goals, that's pretty good. I like that," he said. "That's a good place to start. If we can keep moving the ball like that, again, I think we'll knock down a few more of those shots. I think one of the strengths of our team in the first seven days has been an unselfish nature playing the game."
Rookie Kelly Olynyk, a big man whose passing skills have often been praised, finished with a team-high five assists, while Gerald Wallace and Sullinger had four apiece. Maybe not surprisingly, those three played together on one of Boston's most successful units.
* Informed that his team had six rebounds at halftime, Stevens quipped, "That wasn't very good was it?" Told it got better in the second half, he politely disagreed.
"It didn't feel like it," he added. "First of all, I thought [Tyler] Hansbrough made a huge impact on this game just being relentless on the glass, kind of doing what he does; it hurt us. We have got to become a better rebounding team, even though we are undersized at the 4 or 5 at times. I thought Vitor [Faverani], when he was in, he gave us a little bit of a presence and did a pretty good job. But we have to become a better rebounding team, and that's not just for our bigs, it means guard pursuit. Our guards are going to have to rebound a little bit over the top as our bigs get guys off. We didn't get many guys off. I bet when we watch tape we didn't get bodies very often. Those are correctable things. Oct. 7, that's pretty normal."