PROVIDENCE, R.I. -- The Boston Celtics were staring at a game-high 23-point deficit moments before Chris Babb earned the distinction of being the team's first training camp invitee to see preseason game action as he stepped on the floor with eight minutes to play in Wednesday's exhibition tilt against the New York Knicks at the Dunkin' Donuts Center.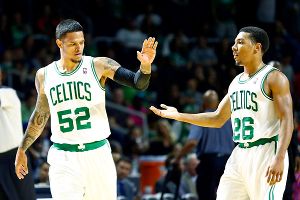 Mark L. Baer/USA TODAY Sports
Chris Babb and Phil Pressey sparked Boston's late-game comeback.Babb quickly showed why he was the first of the roster long shots to get a look.
The undrafted rookie shooting guard out of Iowa State, who doesn't even have a Wikipedia page (you're slacking, web-savvy Celtics fans), registered an immediate block -- showcasing why he was regarded as one of the nation's top collegiate defenders last season -- and followed with a 3-point barrage that helped Boston surge from behind (and take a late lead).
Babb finished with a team-high 12 points on 4-of-6 shooting, but his little leaner in the lane was blocked in the game's final second, preventing any true heroics as the Knicks escaped with a 103-102 triumph. Even still, it was an end-of-the-bench lineup featuring Babb, Phil Pressey, MarShon Brooks, DeShawn Sims and Vitor Faverani that made things interesting for Boston.
Celtics coach Brad Stevens wasn't surprised by Babb's outburst.
"Chris Babb has been one of the best workers, had one of the best attitudes, and been one of the best teammates in there from Day 1," Stevens said. "So it's not a shock at all that he went in and did what he did. We have been huge fans of his since he walked in the building."
Babb said Stevens has been in his ear about staying ready and waiting for a chance to prove himself.
"Coach took me aside a couple days ago and told me to keep a positive attitude and my time would come," Babb said. "A lot of the veteran guys told me the same thing, just say positive and when I get in there, be aggressive. My first shot fell and it just kept falling."
Boston has an open roster spot with only 14 guaranteed contracts, but it's so close to the luxury-tax line that Babb would really have to impress to earn that final roster berth. While a better payday could await overseas (if no other NBA team is intrigued by his talents), he could give himself a chance to stick with the Celtics organization if he was willing to ink a low-money, D-League deal and get assigned to the Maine Red Claws as an affiliated player.
For the moment, Babb is simply focused on Thursday's practice.
"I'm not really looking that far ahead. I'm just ready for practice tomorrow," Babb said. "I've still got a lot to prove. One game is not going to do it. I'm just going to continue to bring that hard work and positive energy."
Read on for notes on Jeff Green's bench role, MarShon Brooks' return to Providence, coach Rajon Rondo, and Gerald Wallace getting planned second-half rest:
Green fine with bench role
The Celtics went with a starting lineup of Avery Bradley, Courtney Lee, Gerald Wallace, Brandon Bass and Jared Sullinger. As he had stressed even before the exhibition season opened on Monday, Stevens said the team simply wanted to see different combinations and not to read too much into Jeff Green coming off the bench.
"[Wallace starting] has nothing to do with Jeff," Stevens said. "It's completely to do with what we want to tinker with. [Green is] doing fine. We're asking him to do a lot. We've probably got to simplify it earlier now and keep him at one or two spots instead of three spots, but I don't think that's been determined yet, which [positions]."
For his part, Green knows observers will inevitably read too much into it despite Stevens' warnings not to.
"I know people are going to make an assumption or something," he said. "The coach is the coach. He made sure the media and everybody knew that he was going to play with lineups before we even started preseason. You can listen to him or you can't. But people are still going to assume that something is wrong, something has happened."
Told some players might not be able to ignore the noise, Green added, "I'm not most people. That's not my problem. I know what I can do. I know I can block it out and whenever you put me in, I'm in."
With Wallace sitting out the second half, Green ran with the starters in the second half. He finished with 10 points on 4-of-10 shooting with three rebounds and two assists over 21 minutes. He was more aggressive than Boston's exhibition opener, but was still minus-14 in plus/minus.
Stevens said he is worried about overloading Green while asking him to play three positions and might try to scale back the current workload. Green told him to keep it coming.
"We talked and I told him I'm still willing to take on that challenge because with my versatility, we can cause mismatch problems and put the advantage on our side," Green said. "It's all a work in progress. This is … our second preseason game. It's not like we're 50 games into the season."
Brooks returns to Providence
MarShon Brooks, a Providence College product, returned to his collegiate court Wednesday night, registering eight points, three assists and two blocks in 19 minutes.
After sitting out a portion of Tuesday's practice due to a migraine, he was excited to play in front of a large pack of Friar friends at The Dunk. After playing just a couple minutes in his Boston debut on Monday, Brooks got a better chance to showcase his abilities.
Even still, he admitted his role is murky at a crowded shooting guard position and that he has to assert himself moving forward.
"I'm still trying to figure [my role] out," Brooks said. "Everybody is trying to find their roles. We have a lot of guys on this team trying to prove themselves. We have a lot of young players."
Coach Rondo
Celtics point guard Rajon Rondo, rehabbing from ACL surgery, was back on the bench dispensing advice to his teammates throughout Tuesday's game. Often, a teammate such as Avery Bradley would seek Rondo out for his wisdom, particularly at the point guard position.
Stevens said Rondo has been a valuable resource on the sideline.
"He is a guy that wants to know what's going on, wants to know what the other team is doing," Stevens said. "If you can get calls, he wants to know those. He's really engaged in the game. I wasn't sitting right next to him, so I don't know everything he was saying, but everything that I heard was very much in a coaching-esque fashion. That was great. I thought he was good."
Echoed Green: "He's the point guard. So he sees the floor in ways that we don't. With him watching, he's seeing openings and different things that can help us improve. We look to him for advice and he's going to give it out. He's like an extra assistant that we have."
Stevens runs on Dunkin'
Playing inside the Dunkin' Donuts Center, new-to-New England Stevens was asked if he drinks the region's native coffee.
"I do. We have Dunkin' Donuts in Indianapolis," Stevens said. "In fact it was right on my way to [Butler]."
Alas, that coffee stop was a bit more convenient on his morning commute. Stevens said he doesn't have a java spot on his trek to the Celtics' training center in Waltham.
"I've gotta figure out a new route," he quipped.
Wallace got planned rest in second half
Despite Wallace sitting out the second half and icing his left foot, Stevens said he had planned to limit the veteran's minutes on Wednesday.
"I knew he was not going to play in the second half at the start of the night," Stevens said. "So what we've done with him is we basically said that, obviously, he's got nicks and bruises that he's taking care of but he's [otherwise] fine physically. He could play [Thursday] if we had to play."