PROVIDENCE, R.I. -- File it under "Life of a Rookie." Coming off a solid NBA debut, Boston Celtics guard Phil Pressey was dressing after Wednesday's exhibition game with a swarm of reporters waiting to chat with him. His locker was sandwiched between Rajon Rondo and Avery Bradley, the team's top two point guard options and the two longest-tenured players on the team. Noticing the crunch of cameras and microphones, the veterans politely advised Pressey to move down a few lockers so they could dress in peace.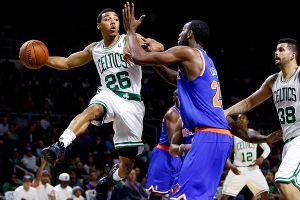 AP Photo/Elise Amendola
Celtics rookie Phil Pressey is making a push for minutes at the point guard position.Like every other bit of advice that Rondo and Bradley have dispensed lately, Pressey gobbled it up and shuffled shirtless a few stalls down as reporters followed. Even with the duo out of earshot, he showered them with praise for their role in preparing him for Wednesday's game.
After sitting out Boston's exhibition opener on Monday, Pressey, an undrafted free agent out of Missouri, logged 28 minutes of floor time Wednesday against the New York Knicks and responded with strong guard play that helped Boston erase a 23-point deficit before falling 103-102 at the Dunkin' Donuts Center.
Pressey finished with a team-high 13 points on efficient 4-of-5 shooting (three of his four makes came at the rim and his one miss was his only attempt beyond the 3-point arc) and a team-best seven assists to go along with three rebounds and two steals. Most importantly, he had zero turnovers.
"I was just trying to go out there and carry over what was happening in practice," Pressey said. "Competing every day, I really feel like Avery and Jordan [Crawford] and the other guys, us competing against each other, really got me ready for the game."
Pressey came out of Missouri following his junior season and didn't get picked in June's draft. Celtics president of basketball operations Danny Ainge, who has known Pressey for a long time after his father, Paul, coached on Doc Rivers' staff in Boston, phoned soon after to invite Pressey to play on Boston's summer league squad. A solid summer showing translated into a three-year contract for Pressey with a fully guaranteed first season.
Now, with Rondo rehabbing from ACL surgery and Pressey the only pure point guard on the roster, there's an opportunity to play his way into immediate minutes (even if it's behind Bradley). With Crawford not playing Wednesday due to a death in his family, Pressey made a strong case for more time on Wednesday night.
"I think Phil's going to find time if he keeps doing what he's doing," Celtics coach Brad Stevens said. "Now, the challenge is in responding to a night where you have a little success, and then responding the nights where you don't and just maintaining an evenness about you. The one thing about Phil is that Phil gets in the gym, you guys have all been around, and he doesn't leave the gym early. He's a guy that can make plays for other people and he made us better tonight."
Stevens added, "His speed is obviously really good. He's a hard guy to keep in front. You think you've got him stopped and he can just kind of snake by you. We weren't perfect, but I thought he did some good things."
Pressey's efforts helped Boston erase a 23-point fourth-quarter deficit and a little lefty floater off the glass after a strong push in transition had Boston out front 102-101 with 22 seconds to play. Pressey played all 12 fourth-quarter minutes, scoring eight points on 3-of-3 shooting with four assists and two steals while finishing plus-13 for the frame. Two of those assists were to camp invite Chris Babb, who hit four 3-pointers in the final eight minutes to aid the rally.
"Coach just told us to keep playing," Pressey said. "We just kept playing and we went on a little run, and before you knew it we were down single digits. At the end of the day, you just gotta play the game the right way and let the rest take care of itself."
Pressey has potential to help fill point guard minutes as Rondo rehabs (particularly with Bradley and Crawford preferring to play off the ball). He just has to keep playing like he did Wednesday night and, as he noted, the rest will take care of itself.