WALTHAM, Mass. -- Vitor Faverani is a mountain of a man and the only thing snazzier than his fauxhawk is his nickname, El Hombre Indestructible. Watch the rookie big man in action for the Boston Celtics: He's often the loudest voice on the floor, barking out commands like a veteran from the back line of Boston's defense.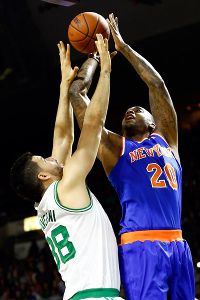 Mark L. Baer/USA TODAY Sports
Vitor Faverani has made a big impression in a short time.Which is ironic when you consider that Faverani's biggest adjustment to the NBA game might simply be the language. The 6-foot-11, 265-pound center is a native of Brazil and spent the past eight seasons honing his game while playing professionally in Spain.
At times, it seems like the only thing that can dent the Indestructible Man is the language. He has bravely attempted to navigate media sessions stateside while responding in English (he did have Austin Ainge help translate on Media Day) and always handles himself well. In fact, the broken and honest nature of his responses only endears him further.
An example: Late in the first half of Wednesday's preseason loss to the New York Knicks in Providence, Faverani was running the floor in transition when Courtney Lee threaded a beautiful bounce pass to him in the lane. Faverani, in one smooth motion, brought in the pass and delivered a right-handed slam over New York's Andrea Bargnani as both the Boston bench and Dunkin' Donuts Center erupted in celebration.
Asked after the game about the positive response to his highlight dunk, Faverani said, "I don't have time for nothing on the court; I made the dunk but then I have to run back on defense. But I'm very, very happy. I'm very, very happy. Because the dunks can help my teammates. I can show the coach [Brad Stevens] I can play in the NBA. I'm very happy."
So, too, are the Celtics, who utilized a portion of their midlevel exception to ink Faverani to a three-year, $6.3 million contract, one of their only free-agent splurges as part of a summer roster overhaul. Faverani arrived with plenty of question marks about his game, including whether he could handle the physicality of the NBA level. He said on Media Day that he likes to "fight" on the floor and pledged to live up to his physically fierce nickname.
The scouting report upon Faverani's signing suggested a skilled offensive player, but a question mark on the defensive end. Sure enough, early returns show a player with range to the 3-point line (Faverani hit a late-clock, fadeaway 3-pointer in the first half Wednesday) who can run the floor or slip free to the basket and finish with loud dunks.
Faverani registered 11 points on 5-of-9 shooting with a team-high six rebounds over 20 minutes in Wednesday's loss to the Knicks, then earned high praise from his coach.
"He's a better shooter than he's shooting it and he can score it on the block better than we've thrown it to him or that he's played on the blocks," said Stevens. "You've got to be a little bit more efficient, and we've got to help him with that. But he's done a really good job.
"I've probably been more impressed with him on the other end of the floor. He's calling out our defensive schemes pretty well, in fact at times I think he's our most vocal big. And he's doing a really good job for a guy that's never guarded the way we're asking him to guard."
Faverani certainly hasn't been perfect, but you can see the potential. What's more, he is Boston's only pure center on the roster and that aids his chances of being in the rotation when the regular season opens on Oct. 30 in Toronto.
"I think he's got a pretty good ceiling and he is the guy on our roster that is a true center," said Stevens. "He's a guy that has to play, I think, as we move forward."
Faverani has been working each day with veteran assistant coach Ron Adams to improve both his shooting and his defense. Stevens admitted there's a tangible improvement in his play since even the start of training camp.
"He is getting better every single day," said Stevens. "Did I think he'd be able to do this on Day 1 in Newport? No. So, that's good, because we're only nine days [past] that. He's getting more comfortable. He's still got a little bit of a language barrier. But he runs what we want to run out of the timeouts, he doesn't have any problem translating anything we're trying to do on the court."
No, Faverani's game is translating fine at the NBA level so far.