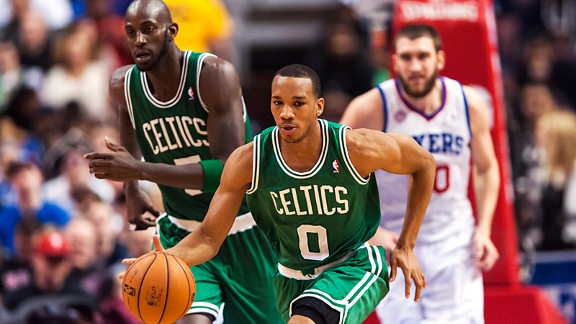 Howard Smith/USA TODAY Sports
Avery Bradley and the Celtics visit the 76ers on Friday night.The Boston Celtics visit the Philadelphia 76ers in Newark, Del. for an exhibition tilt on Friday night (7 p.m., CSN). Here's what to watch for:


* EYES ON POINT GUARD ROTATION: Undrafted rookie free agent Phil Pressey is coming off a solid NBA debut in which he posted team highs with 13 points and seven assists, didn't turn the ball over, and spearheaded a 23-point fourth-quarter comeback during Wednesday's loss to the Knicks. With Jordan Crawford back with the team after missing Wednesday's game, it'll be interesting to see how coach Brad Stevens splits up the backcourt minutes and matches his personnel.
* START OF FIRST BACK-TO-BACK: Stevens will get his first taste of an NBA back-to-back (something Boston has plenty of this season, including six in November alone). This one is particularly distinctive given the destinations (Newark, Del. and Manchester, N.H.) "It's a little unique because we're not flying to the [second] destination, we're flying [back to Boston after Friday's game] and then driving up [to Manchester on Saturday]. And we played [Saturday's opponent] the Knicks [Wednesday], so it's not going to be a huge huge preparation time. It will be really unique when we're playing a team for the first time in my career on a back-to-back. We've got a really good staff, they do a great job of preparing, we have a system that we're getting down, in scouting, where they get me information at a certain time, and it's really helpful because it's really precise and they work hard to simplify it." At the moment, Boston's focus is largely on itself and not the opponents.
* DEFENSIVE IMPROVEMENTS: The Celtics have struggled to play consistent defense over their first two preseason tilts. The team worked Thursday in practice on programming what Stevens calls the team's Defensive DNA and he'll be looking for more cohesion and physicality from a group that has allowed opponents to shoot better than 50 percent from the floor the first two times out.
* STAYING UNSELFISH: The Celtics have assisted on a staggering 72.6 percent (53 assists on 73 field goals) of their baskets this preseason. It plays into Stevens' desire -- especially as Rajon Rondo rehabs -- to have his team generate easier looks with ball movement and an up-tempo style fueled by transition opportunities. Boston's transition numbers have been fantastic in a small sample size, but that's only left Stevens encouraging his team to run more often to prevent going stagnant against set defenses.