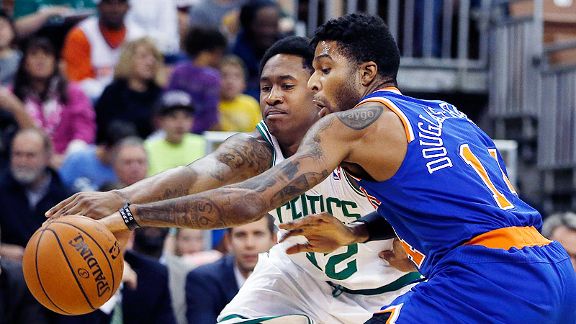 AP Photo/Michael Dwyer
MarShon Brooks (12) battles for the ball with the Knicks' Chris Douglas-Roberts (14).MANCHESTER, N.H. -- Rapid reaction after the Boston Celtics defeated the New York Knicks 111-81 in exhibition play on Saturday night at Verizon Wireless Arena:


THE NITTY GRITTY
Coming off an abysmal effort during Friday's loss to the Philadelphia 76ers in Delaware, Brad Stevens said Saturday's game would be a telltale sign of how his team responds to adversity. Boston opened the game on a 10-0 burst and never looked back while delivering its most sustained effort of the preseason (and emerging with its first win in four tries). Even before the game, Stevens noted, "I told the team today, I don't want to use the back-to-back thing as an excuse. I know it's something that everybody is going to talk about, but everybody's got them. Everybody's gotta do it. Nobody should be more excited about playing a game today than us." Jordan Crawford put up 13 points, a team-high seven rebounds, and three assists over 25:44, while rookie Kelly Olynyk added a team-high 15 points, six rebounds, three assists, and two steals over 25:01.
THE GOOD
Everything. OK, we're sure Stevens will find something to quibble with (particularly since the win came with the Knicks sitting out some key starters). But the Celtics started fast (making 7 of their first 10 shots, including four 3-pointers while jumping out to an 18-4 lead after six minutes) and the reserves never relented, pushing the lead as high as 37 as Boston led the entire way... Boston shot 54.2 percent (39 of 72) from the floor and that helped them dominate the rebounding category (45-34 overall). Like Crawford, Brandon Bass grabbed a team-high seven rebounds over 18 minutes... The Celtics put seven players in double figures including Avery Bradley (13), MarShon Brooks (12), and Jared Sullinger (12)... Veteran swingman Gerald Wallace got a night off as part of planned rest.
THE BAD
You could nitpick that Jeff Green had another lackluster shooting night -- 3 of 12 overall -- but he scored 11 points and was a team-best plus-24 in plus/minus. We'd still like to see him around the basket more (half of his shot attempts were beyond the arc and he had just one rebound over 29:20)... Kris Humphries was the only Boston regular in the minus (-5) but he had two blocks and played physical when he was on the floor (drawing some hard fouls)... You know what the real bad was in this one: eight (EIGHT!) delay of game penalties. The league is emphasizing the slowdown when players throw the ball to the referee after made baskets, but the post-basket whistles only delayed the game more than the actual infraction.
WHAT'S NEXT?
Coming off the back-to-back, the Celtics will take Sunday off before getting back on the practice floor on Monday. That'll be a much-needed session after a game-heavy week that saw four games in six days. The Celtics have another back-to-back with visits to Brooklyn (Tuesday) and Toronto (Wednesday).