MANCHESTER, N.H. -- The Boston Celtics' best player this preseason might just be the one in the worst shape. At least in that player's opinion.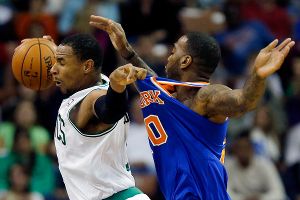 AP Photo/Michael Dwyer
Jared Sullinger battles for the ball on Saturday night against the Knicks in New Hampshire.Jared Sullinger said he hasn't stepped on a scale since mid-September, not wanting to let three numbers dictate the progress he's making as he tries to whip his body into shape after nearly six months of inactivity following back surgery in February.
Fortunately for Sullinger, all the readily available numbers that he's posted on the court thus far have been supremely flattering. Through four preseason games, Sullinger is averaging team bests at 12.8 points and 6.5 rebounds per game. What's more, after finishing a plus-23 during Saturday's 111-81 thrashing of the New York Knicks at the Verizon Wireless Arena, Sullinger is now a glossy plus-31 through four games (not bad for a team that's 1-3).
Like the scale, Sullinger doesn't judge his preseason by the stats. He lets his body dictate his progress. Before the start of training camp, Sullinger admitted he was uncertain how fast he could get back to game shape, but suggested he was a long ways off. His on-court play has suggested someone that's very much ahead of schedule, even if Sullinger refuses to admit it.
"I have to do a couple more things," he said. "As of right now, [he's] on schedule."
Stevens knows these games -- especially a back-to-back like consecutive tilts with the 76ers and Knicks that Boston just endured -- is particularly helpful for Sullinger.
"Right now, I think we could use a day of practice more than an exhibition game. But I think, for [Sullinger], these are good," said Stevens. "These are really good. He played a large chunk [Friday night] in the third and fourth quarters without any rest -- to the point where I took him out and would've put him back in had the game been close at the end, because he was really playing well, and we were playing well."
Sullinger said what we're seeing on the floor is the result of hard work away from game action.
"I just think that's the extra time that me and [head strength and conditioning coach] Bryan Doo and [assistant strength coach] Armand [Lavallee] have put in off the court between just getting extra conditioning in when we don't have a hard practice," said Sullinger. "I'm just trying to get myself to drop a few pounds and be in the best possible shape and be in the best condition to help."
Read on for more notes, including Jeff Green making an impact as his shots won't fall, embracing the future, and no victory lap for Stevens:
SHOT WON'T FALL, BUT GREEN LEAVES MARK
Jeff Green missed nine of the 12 shots he put up on Saturday night, but finished with 11 points over 29 minutes and was a team-best plus-24 in plus/minus. Two of his three makes were from the left corner and half his total shots were from beyond the arc, but Stevens still thought he was more aggressive than he's shown previously.
"His misses were to the rim," said Stevens. "They were aggressive... He did not wait for the game to come to him in the post. He made things happen. And then your longer shots go down. That's kind of the way this game works sometimes."
Asked about making an impact as his shots won't fall, Green admitted he needs to keep attacking the basket.
"It hasn't fallen for me yet," he said. "I'm just trying to stay aggressive, do my best in the minutes that I'm getting. Obviously, it's preseason and I'm not playing that much. Just trying to get a rhythm. I talked to coach, today I wanted to play a little bit more, just to try to get a rhythm... It's a good start to what I'm trying to accomplish, just gotta keep doing it from here."
Green, who entered Saturday's game at minus-44 through the first three exhibition games, got some staunch support from Stevens even before his plus-24 effort against the Knicks.
"Any time you've got a guy that is struggling at all, it's easy to say that there's an individual and just changing the individual is going to make a difference," said Stevens. "I don't think that's the case [with Green]. It's too early a sample size to figure out if that's legitimate. But at the same time, I think he would be the first to tell you that making more shots is helpful. And I think that will start with a couple paint makes -- getting into the paint, posting up, getting in transition, getting an and-1, getting an offensive rebound, doing something that is a difficult thing to do but is an easier finish. That usually opens the floodgates for making jump shots."
LOOSE BALLS
* Former Celtics coach Doc Rivers used to shrug off medical inquiries and often quipped, "Doc's just a nickname," as an explanation when he couldn't offer more insight into an injury. On Saturday, Stevens apologized to reporters for not knowing more about the sprained right thumb that he expects will sideline Keith Bogans for two weeks. "My dad's a doctor, I'm not," joked Stevens.
* Gerald Wallace, a 13th-year NBA veteran, got a night off with the Celtics playing the tail end of a back-to-back. Said Stevens, "That's giving [rest to] a guy who is, not only a vet, but a guy who tallies up those bumps and bruises along the way with the way he plays. I think that's the prudent thing to do in the preseason with him."
* The walls inside the locker room of the Manchester Monarchs, an AHL affiliate of the Los Angeles Kings, is inscribed with, "Embrace your future." Seems like a solid motto for a young Boston squad.
* Congratulated on his first NBA win, Stevens smiled and said, "If I'm not going to count those last three, I'm not going to count this one, I guess."