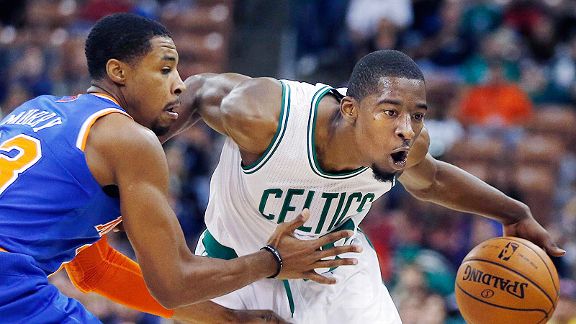 AP Photo/Michael Dwyer
Jordan Crawford looks to drive against the Knicks on Saturday in New Hampshire.Poor New York Knicks rookie C.J. Leslie got himself twisted when Boston Celtics swingman MarShon Brooks left him flailing with a little up-fake/behind-the-back combo then sank a 15-foot fadeaway over him midway through the fourth quarter. From the other end of the court, Jordan Crawford laughed and bellowed, "Put him in a blender! A blender!" and Avery Bradley could only shake his head and smile.
"He talks a lot. But I love it because he doesn't just back it up, he brings it every single game, every single practice," Bradley said of Crawford. "All you can do is respect somebody like that, and be happy he's on your team. Because you have somebody that's going to go out every single night and play hard with you, no matter what. I just love playing with him."
As the Celtics experiment with backcourt combinations in the absence of rehabbing Rajon Rondo, they might have found something in the Bradley-Crawford pairing. While both are more comfortable at shooting guard, their ability to split the ball-handling duties has taken some pressure off each of them and allowed their natural talents to take over.
The Bradley-Crawford combo helped Boston score the game's first 10 points Saturday sparking the Celtics to a lopsided 111-81 thrashing of the star-resting New York Knicks at Verizon Wireless Arena. Crawford finished with 13 points on 6-of-10 shooting to go along with a team-high seven rebounds, three assists, and a steal over 25:44.
Crawford, who has owned a less-than-flattering reputation as a talk-heavy shoot-first guard during his NBA career, is quietly trying to reinvent himself a bit this season. Acquired at last year's trade deadline to add a wild-card presence to a depleted Boston roster, the Celtics now see Crawford as a valuable combo guard who can throttle his shot output and showcase his underrated passing skills.
And his teammates are standing up for Crawford, suggesting his reputation is misguided, overblown by incidents like Game 5 of an Eastern Conference first-round series last year when he got a little too boisterous while spewing postgame trash talk at New York's Carmelo Anthony.
"[Crawford is] very misunderstood," said Jared Sullinger. "He's really a team-first type of guy. Very good teammate. And he makes the right plays. Everybody says he makes the wrong plays, [but] he makes the right plays. And he looks for his shot, and that's what everybody does. He knows his role."
Crawford has shown a more disciplined approach this preseason. Coach Brad Stevens has raved about his shot selection and Crawford is simply playing more efficiently.
Consider this: Through four games, Crawford is averaging 1.391 points per play (32 points on 23 possessions), according to Synergy Sports data. That ranks him in the 96th percentile among all players this preseason (tops on the Celtics). What's been far more impressive is that, defensively, Crawford is allowing only 0.529 points per play (nine points on 17 possessions), ranking in the 85th percentile (also tops on the team).
It's a super small sample, but it's enough to leave many wondering where this Crawford came from.
"I just think Jordan is a playmaker," said Stevens. "He makes some for himself; he makes some for others. He's a good basketball player. I was telling [assistant coach] Ron Adams on the way in, Jordan is the kind of guy that walks into the gym on Saturday night after a back-to-back and that's where the next game is. That's the way that he's always been. He's probably looking for a game tomorrow [on Boston's offday]. That's who he is and I respect that. I like that. I wasn't surprised he played well."
Is this a more mature Crawford?
"My impression of Jordan Crawford before I got here was he almost beat us at Hinkle," said Stevens, referencing a 2009 meeting in which Crawford scored 20 points but No. 21 Butler escaped with a 69-68 triumph. "He put on a show, so I knew what he could do scoring the ball. He's a really good passer. He's a better passer than people realize. He's done nothing but buy in."
Off the court, Crawford is a man of few words when addressing his own play. Asked if he has something to prove this season, he offered simply, "I've always got something to prove."
He did admit that working as a pass-first ball-handler has helped him carve out a role on the floor.
"It just makes you more comfortable," said Crawford. "You know you don't have to force shots because the ball can come back to you, so you want to get everybody involved, get everybody else ready. While you're getting everybody else ready, you find your rhythm."
Rookie Phil Pressey has noted that Crawford is super competitive in workouts and never stops talking to him. The two have fostered a nice competition in camp that has pushed both players to be their best.
But Crawford knows now when the tone down the talking.
"He's always competitive, that's Jordan. He doesn't talk stuff during practice, I don't know who Jordan is then," joked Sullinger. "I think that's how he gets his motor going. And that's what gets him locked in and ready to play."