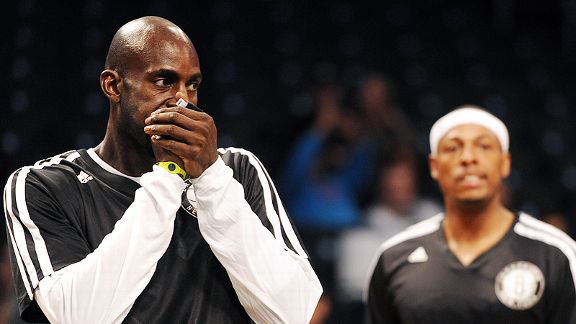 Joe Camporeale/USA TODAY Sports
The Celtics will see old friends Kevin Garnett and Paul Pierce on Tuesday in Brooklyn.WALTHAM, Mass. -- The Boston Celtics visit the Brooklyn Nets on Tuesday night at the Barclays Center. As preseason games go, this would seemingly be as intriguing as it gets for games that don't matter.
After all, the two sides completed a nine-player, three-draft pick swap that radically altered both franchises in July and this is the first of what will be six ballyhooed meetings this season (two preseason; four regular season). You'd expect some extra emotion on both sides, but the Celtics downplayed the significance of Tuesday's opponent. Even 13th-year NBA veteran Gerald Wallace shrugged off a trip to play his former employer.
"I got like four former teams, so it ain't no motivation for me," said Wallace. "Our main thing is to get better, continue to get better, and build on it for the regular season."
Wallace endured maybe his worse season as a pro last year in Brooklyn, but has been one of Boston's best all-around performers through the first half of the team's exhibition slate. Wallace has emphatically stated that he has no desire to revisit the past and his struggles last season with the Nets, pledging only to do all he can to help a young Boston team navigate this transition process as quickly as possible.
What about some of Boston's returning players, guys like Brandon Bass who spent a couple seasons playing alongside Paul Pierce and Kevin Garnett?
"Our OGs are no longer here, the young Gs have to step up now," said Bass. "We're just treating it like a regular game. We've got to go out, play hard on both ends and try to get a win."
Yes, the Celtics were largely devoid of emotion after Monday's practice while talking about Tuesday's visit to Brooklyn. Bass said he bumped into Pierce at a boxing match in Las Vegas last month, but said he hasn't really talked to the departed players. Jeff Green echoed that sentiment, noting the lack of communication since the trade went down.
"It just got to a point where it was time to move on, for me," said Green. "They're gone. I can't worry about how they feel or how I feel. The trade happened, it happened. When I see them, brief words and then I'll get ready to play."
Celtics coach Brad Stevens said it would be understandable if some of his players had extra emotions on Tuesday night. But he won't.
"I don't know [Pierce and Garnett], other than I'm a fan from afar," Stevens said of the players traded to Brooklyn. The Celtics and Nets agreed to the deal on draft night, but didn't execute it until after Stevens was hired in early July. "Certainly, being around this organization, I'm thankful for what they did and what they brought to Boston. Again, their jerseys will be in the rafters and they are special, special players here. I really respect that. But I don't know them personally. I've never met them. I don't have any extra emotion tied to it, like some of our players will. I think that's OK to have that."
Pierce has talked previously about the emotions he'll have returning to Boston, suggesting he's unlikely to accompany the Nets when they visit TD Garden on Oct. 23 for another exhibition tilt. No, Pierce plans to wait until the first regular-season meeting here on Jan. 26 to purge those emotions.
Pierce, who will sit out the Nets' game Monday in Philadelphia, could suit up against his former team on Tuesday, but he'll see plenty of new faces on the other side. If Garnett plays on Monday, it will be interesting to see if he takes the night off against Boston on the tail end of a back-to-back.
Bass stressed that the Celtics have too much to work on as a team to worry too much about who is on the floor for the other team.
"[Pierce and Garentt] both helped me out a lot; they did a lot for this organization," said Bass. "I'll be excited to see them, but at the same time, it's going to be competitive. We're going to compete."
Added Bass: "As a young group, we're focusing on improving every night. I think it will be a lot more emotion in the regular-season games as far as those guys, Paul and Kevin."