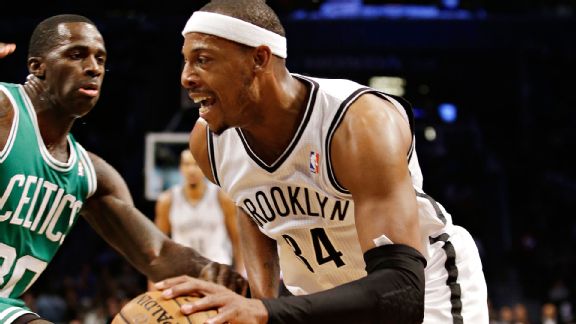 AP Photo/Frank Franklin II
Paul Pierce looks to drive on old teammate Brandon Bass on Tuesday in Brooklyn.NEW YORK -- Rapid reaction after the Brooklyn Nets defeated the Boston Celtics 82-80 in preseason play on Tuesday night at the Barclays Center:


THE NITTY GRITTY
Paul Pierce spared his former team from an offensive outburst, but -- in typical Pierce fashion -- left his mark on the game by finishing with 4 points, a game-high 10 rebounds and 5 assists over 27:20. Pierce took time to catch up with Rajon Rondo near the Boston bench during a stoppage in play, but his night had been long over when Chris Johnson made a couple of late free throws to lift the Nets to victory. For Boston, Jeff Green made strides toward snapping his offensive funk, registering 12 points on 5-of-11 shooting (three of his makes came at the rim), the only downside being a high turnover total (4) and another quiet night on the glass (2). Boston's frontcourt had its hands full with Brooklyn's size, but Kris Humphries had a solid night against his former squad with 12 points (on 4-of-6 shooting) to go along with eight rebounds over 27:59.
THE GOOD
Courtney Lee hit a pair of late-game 3-pointers as Boston surged to tie it. He finished with a team-high 14 points on 4-of-11 shooting with four rebounds and three steals. Lee did miss a baseline jumper with a chance to tie in the final seconds. ... Avery Bradley had a horrendous shooting night (2-of-13, 7 points), but grabbed a team-high nine rebounds and filled up the rest of his stat line with three assists and two steals. ... Jordan Crawford had more ups than downs as a line with 10 points, 6 assists, 5 rebounds and 2 steals negated the five turnovers and some questionable shot attempts. ... Kelly Olynyk fouled out in 20 minutes of floor time. But the rookie had an excellent night before being disqualified as he put up 10 points on 5-of-8 shooting with four rebounds and two assists. He was a team-best plus-10 in plus/minus.
THE BAD
Tuesday's game in general was not what you'd call crisp. Both teams shot sub-40 percent (Boston at 36.5 percent; Brooklyn at 35.5). The teams also combined for 43 turnovers. ... Boston's bigs had few answers for Brook Lopez, who scored a game-high 20 points on 8-of-15 shooting over 25:39 and often bullied his way to the hoop for easy points. Fellow big man Andray Blatche added 14 points on 5-of-7 shooting with six rebounds and three steals in 24 minutes.
LOOSE BALLS
After catching up with Pierce, Rondo later flagged down Jason Terry and the two conferenced at halfcourt during a timeout. ... Kevin Garnett did not play for Brooklyn on the second night of a back-to-back and did not sit on the bench during the game. ... MarShon Brooks played just 2:31 against his former team and Celtics coach Brad Stevens hinted before Tuesday's game that he might see more time in the next outing.
WHAT'S NEXT
The Celtics play the second night of a back-to-back on Wednesday in Toronto. A day off looms Thursday and the team will have back-to-back practice days before flying to Quebec to play the Minnesota Timberwolves on Sunday night as part of the league's Canada Series. The Celtics wrap up their eight-game exhibition slate with a visit from these same Nets next Tuesday evening at TD Garden.