One of the more promising developments of the preseason for the Boston Celtics was the play of undrafted rookie point guard Phil Pressey.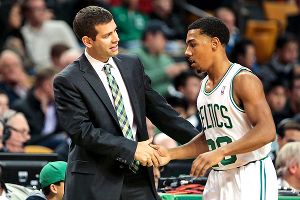 Aram Boghosian/The Boston Globe/Getty Images
Celtics first-year coach Brad Stevens likes what he has seen from Phil Pressey.A strong showing as a summer league invite earned Pressey a three-year contract that included a fully guaranteed first season. But even being the only healthy pure ball-handler in camp this season didn't guarantee the 22-year-old the chance to crack the rotation this year. His play this exhibition season might have.
"[Pressey has] shown a ton," said Stevens. "I think at times that we've played our best basketball with him on the floor. At other times, he hasn't been as good, and that's to be predicted. He's a young guy. But I've said this at the start, the guy works at his game. He wants to be good. It's not an accident that he's here. He is a good player. He's a hard worker. He cares. He's an easy guy to coach. All that stuff adds up at the end of the day. You can see it in the exhibition games."
Pressey appeared in six exhibition games and averaged 4.8 points and 4 assists over 18.8 minutes per game. Maybe the absence of a pure point guard with the first unit only magnified the calming influence he often delivered to reserve groups, sparking Boston to some of its most inspired play of the preseason.
The knock on Pressey has been his offensive game. He's a capable of floor general, but his jump shot is inconsistent and teams will challenge him to shoot. According to Synergy Sports data, Pressey averaged a mere 0.725 points per play, ranking in just the 26th percentile among all league players this preseason. But Synergy also logs a measure called plays + assists and, add in his 24 helpers, and that points per play rockets to 1.375, ranking in the 93rd percentile. For comparisons sake, Clippers point guard Chris Paul averaged 1.399 points per play + assists this preseason.
That doesn't mean Pressey is a future All-Star, but for a player that all 30 teams passed on (twice) on draft night, he's got a chance to carve out a role in Boston's early season rotation. Pressey is proving he belongs, and acting like that was never in question.
"You don't get to where he is at his size unless you've got a little something to you," said Stevens. "You look across some of the smaller guards in the history of basketball that are in the NBA now, that are in college now, and those guys probably all share one common characteristic -- and that's that they've got stuff to them. He's not arrogant by any means, but he's appropriately confident."
Jared Sullinger, who knows a thing or two about playing with a chip on your shoulder after back concerns forced him to slide in the 2012 draft, added, "That's Phil, though. Especially when you have someone like Rondo in your ear, telling you what you can do. That really helps you out. Some of that is Phil, he came into training camp like that. And then you add the Rondo confidence, from Rondo being in his ear. He really has a strong demeanor about him."