WALTHAM, Mass. -- Forty-eight hours before the new-look Boston Celtics tip off their 2013-14 season in Toronto, veteran Gerald Wallace was asked what he expects from his new squad.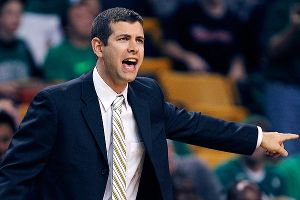 AP Photo/Charles Krupa
Brad Stevens-led teams are known for surprising people: His underdog Butler squad managed to reach consecutive national title games."I don't know, man. I honestly don't know. I'm looking for a surprise. And hopefully it's a good surprise," said Wallace. "[I hope] we come out and understand the situation that we're in, understand what we need to do as a team and as individuals, and start the season off on a good note."
Here's what most everyone else is expecting: the Celtics to lose. And lose badly. Most pundits seem to believe a young Boston roster with a first-year coach is going to stumble its way through the early stages of a rebuilding process. Informed of this possibility, Wallace, a 13-year veteran acquired by Boston this summer, simply shakes his head and laughs.
"I hope not," said Wallace. "I hope you're wrong."
Wallace has been around the league long enough to know what the Celtics are up against. Upon arriving in Boston last month, he acknowledged the difficulty in starting over with a team at this stage of his career. But he also pledged his commitment to the team's transition, noting he'd take great pride in helping the Celtics return to contender status.
And that, in a nutshell, is the 2013-14 season for Boston. It's all about taking the difficult first steps on the road to respectability.