TORONTO -- The Boston Celtics tip off their 2013-14 season (and formally open the Brad Stevens era) on Wednesday night against the Toronto Raptors. Here are 10 things to keep in mind as the season starts: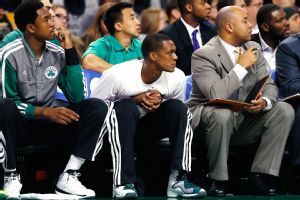 AP Photo/Michael Dwyer
Rajon Rondo will start the season by leading these Celtics from the bench.1. RONDO'S PRESENCE
Rajon Rondo has been with the team nearly every day since camp opened while navigating the final stages of rehab from ACL surgery. He's hinted at a December return to the court, but that hasn't prevented him from having an impact on this team. "It's really helpful [having Rondo around]," said Stevens. "I'm glad he's traveling with us, glad he's around us, because he's been very good. He was very active in practice [Tuesday], talking and asking questions, and I just think that raises everybody's attention to a different level." Stevens previously noted he has no plans to name a captain, but Rondo is the unquestioned leader of this squad.
2. NO STARTING LINEUP YET
After utilizing five different five-man starting lineups during the eight-game exhibition slate, Stevens still hasn't tipped his hand on an opening-night starting five. End-of-practice glimpses have suggested a combo of Avery Bradley, Gerald Wallace, Jeff Green, Brandon Bass and Vitor Faverani, but Stevens could throw a curveball. Few players have truly distinguished themselves this preseason, making Stevens' chore a little more difficult. "I think I've got an idea, but I am going to sleep on it," Stevens said after Tuesday's practice. "We're going to play a lot of different guys, and I think that, again, there are going to be opportunities for everybody over this stretch in November, regardless of how much they play [Wednesday] night." Asked if players were worried about the lineup, Wallace said, "No, we're not worried about that. We know we have a great group of guys. Any five that [Stevens] puts on the court can play together. We just have to compete as a team. Everybody has to be ready and we'll be prepared."
3. NOVEMBER IS ABSOLUTELY BRUTAL
The Celtics play 19 games over the first 31 days of the season, 11 of those come on the road, including the second night of all six back-to-backs the team endures in November. Stevens pointed out how even some of the more veteran NBA guys around the Celtics have winced at Boston's first month, suggesting it's as daunting as anything they've ever seen in the league. Considering Stevens will still be getting his regular-season feet wet and Rondo is likely to be rehabbing through the first month of the season, these young Celtics are going to be tested early and often.
4. THE LAST PRACTICE
The Celtics took this past weekend off for a last bit of rest before the chaos begins. After a less-than-crisp session on Monday, Stevens liked the energy his team displayed in their final tuneup for the regular season. "I thought today was a very solid session. It was concise, it was to the point, just getting ready to play. We don't have many opportunities to practice from here on out. This was important to be good today, and guys had a good focus about them, a good way about them."
5. SPOTS THERE FOR THE TAKING
Stevens said his roster is a bit of a double-edged sword. He likes the depth, but there are logjams at multiple positions and no one really kicked down the door to snatch those spots up this preseason (which is why Wallace could be a starter next to Green instead of a truer shooting guard). But that means there also are jobs and roles to be won on this team, which should inspire some competition. Said Celtics president of basketball operations Danny Ainge: "I think that everybody in the locker room is going to have an opportunity, so that's 14 players that are all going to get a chance. And you know they're not going to get a chance on the same night. I think that -- depending on the success or failures of which lineups are working -- I think that it is a work in progress."
6. THE GM'S TAKE
Ainge has acknowledged the obstacles in front of his team and has attempted to temper expectations knowing this squad could struggle at times. But that doesn't dampen his excitement for the season and a desire to see how this team will play together under Stevens. "I think they have a great spirit and great enthusiasm," Ainge said. "I think our coaches are doing a fantastic job in preparing them. But we've got a lot of question marks. I'm really anxious to see them play. I know they are anxious to play a real game that counts. ... Avery's playing the point guard and Jeff's playing some 2 and 3 and 4. We've got Vitor [Faverani] and Kelly [Olynyk] that are in the rotation as rookies. It's just a lot of things with a new coach and a new system that I'm really excited about."
7. MEET EL HOMBRE INDESTRUCTIBLE
We've playfully dubbed Brazilian rookie Faverani an International Man of Mystery after being imported from Spain this offseason. The big question was would he be ready to play at the NBA level? Faverani had a solid preseason, culminating with a six-block effort in Boston's final exhibition game. His size and potential could earn him early-season minutes. "Vitor is a talented, talented guy," Ainge said. "Hopefully we keep him healthy [because] he's our truest center that we have. He's going to get some opportunities to play because there's some pretty good centers in our conference."
8. FOR STEVENS, IT'S JUST ONE OF 82
Is Stevens ready for his first honest-to-goodness NBA game? "I'm excited to get a chance to coach," he said. "I'm excited to get a chance to coach these guys, coach this team. It sounds cliche, but to me, [Wednesday] is one of 82. You approach it that way, and you have to try to be the best you can be on those 82 nights."
9. BRADLEY READY FOR POINT GUARD DUTIES
Without Rondo, the Celtics' only pure ball-handler on the roster is undrafted rookie guard Phil Pressey (who had an excellent preseason and should compete for second-unit minutes). Bradley will get another crack at initiating the first-unit offense, something he struggled with at times last season, but is confident he can handle after a full preseason at the position. "I feel comfortable out there," Bradley said. "Obviously, I can continue to improve at that position, but I feel comfortable. I know I'm going to continue to improve and there's a lot of people that are going to doubt that I can play that position, but I know if I work hard and have an open mind and continue to learn from Coach and Rondo, I'll be fine."
10. IT'S GO TIME FOR GREEN
After a sluggish start to the preseason, it's go time for Green. His teammates have implored him to be more selfish and aggressive on offense. They want the same player that led Boston in scoring last postseason, but Green must do it without the security blanket of the Big Three on the court beside him. "It's a learning experience, first and foremost," Green said. "I've never been in this position where I have to take X amount of shots, or I have to focus on scoring. All my career it's been being a defensive player, just running the floor, I've always had three or four things where I had to focus on the most. Now it's scoring, trying to get teammates involved, running the floor, playing D -- it's numerous things that I have to think about and I have to think about playing multiple positions, guarding multiple positions." When a reporter suggested his head might be spinning a bit, Green said, "There's a lot going on upstairs. It'll be fun."