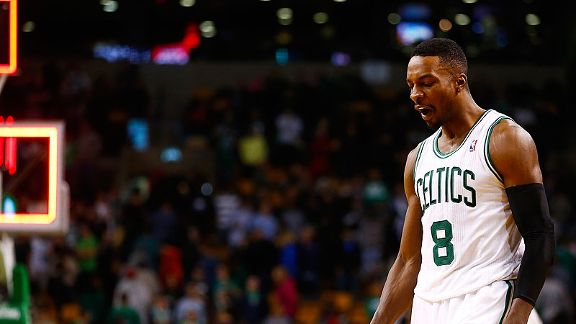 Jared Wickerham/Getty Images
Jeff Green wasn't thrilled with his individual performance on Friday.BOSTON -- The Boston Celtics fumbled away a 22-point lead over the final 19 minutes of Friday's home-opener against the Milwaukee Bucks before dropping a 105-98 decision. The casual fan will laugh and suggest the Celtics are doing a fine job of tanking during this transition season, but inside the Celtics' locker room there was genuine frustration over the team's selfish play that helped Milwaukee rally from behind.
Asked to gauge that frustration, Jeff Green said, "On a scale of 1-to-10? Fifteen. We can't play like that."
Start with the gory details: After erupting for 63 first-half points on 62.8 percent shooting (27 of 43 overall), Boston generated seven measly second-half field goals while shooting 21.2 percent and watched the Bucks absolutely shove them around throughout the final 1 ½ quarters.
With Bill Russell, who Celtics coach Brad Stevens termed the greatest winner in all of team sports before Friday's game, sitting courtside, the Celtics played the sort of selfish ball that likely makes the 79-year-old cringe.
Inside the Boston locker room, 13-year veteran Gerald Wallace, who has already called out his teammates for a lack of effort in the preseason, sounded off on hero ball.
"We got selfish as a team," said Wallace. "Instead of worrying about winning the ball game, we were more worried about stats and getting points. It showed. We went from a team that was together and moving and playing together in the first half to a team that was five individuals out on the court, everybody's playing for themselves. And it showed on the defensive end."
Why did that happen?
"I don't have a clue. You gotta ask everybody in here," said Wallace. "I don't know. I really don't even understand it. I'm trying to figure out what's more important, winning or padding your stats? Because this is a game that we were supposed to win easy, without even the starters playing in the fourth quarter. Instead, we got selfish as a team, we didn't move the ball, we let the ball stick, we stopped pushing the ball. And their second unit came in and manhandled us, and did whatever they wanted to do."
Echoed Green: "[Ignoring personal stats is] the biggest thing right now. That's what we have to do. In order for us to take the next step to getting better, we've got to figure out ways to put egos aside, put your pride aside and just buy into what Coach Stevens wants. That's the only way we can win."
Green scored 13 points on 4-of-13 shooting with nine rebounds and four turnovers over 38:10. His second-half stat line: 0 for 7, 2 points, minus-20 in plus/minus.
"It all starts with me," said Green. "I've got to take the initiative to stop things like that. I can't allow our team to go in that direction. I take responsibility for that. Next game, we'll do better."
In his postgame confab with the media, Stevens was measured with his words. He noted the Bucks had their way with Boston physically for much of the second half, and he felt his team got tight down the stretch. Asked what what he wants his young team to take from this loss, Stevens pondered the question for a moment.
"Well, I'm still processing that," he said. "I want losing to hurt, first and foremost. Losing should hurt. But I don't want it to be something that lingers. I think you lose, you learn from it, you move on."
In a year like this, Boston can't dwell on each loss. But some seem to think the team can just brush aside most defeats and chalk them up to a plethora of available excuses (Rajon Rondo's injured! Paul Pierce and Kevin Garnett are gone!). Asked if members of this overhauled roster are still getting used to one other, Courtney Lee offered, "How long is that going to be our excuse? We had training camp, we had preseason, now we have a couple games under our belt. That excuse is running thin. We gotta nip it in the bud... go out there and play for 48 minutes."
Wallace tried to keep the focus on learning from the loss.
"We were up 20 points. We played a great first 24 minutes," said Wallace. "[Players have to] understand to win the ball game, you play the same way you play the first 24 minutes. Why would you want to change your style of play? You're up by 17-18 at halftime, why would you want to change your style in the second half?"
Added Wallace: "It's very frustrating just to see the personality and the way our team is playing. This is going to be a long season for us, we gotta stay together. We gotta play together, and we gotta want it together. Tonight we did that for the first 24 minutes, the second 24 minutes it was everyone for themselves."
Asked if there's a danger in problems snowballing for young teams, Wallace admitted it's a steep drop. He's hoping the team takes Stevens' advice and uses this game to build and learn from the frustrations.
"Once things start heading downhill, they are heading downhill," said Wallace. "We gotta understand that as a team and try to get on the right path. Even if we're headed uphill and we have bumps in the road, at least we are headed in the right direction. Once you start down, it's a long way down."