A week before the start of the 2013-14 season, NBA general managers heaped some additional expectations on top of Boston Celtics rookie Kelly Olynyk, pegging him as the biggest steal in the draft as part of their annual survey. After a stellar summer league and a solid preseason, Olynyk was expected to have an immediate impact off Boston's bench for these transitioning Celtics.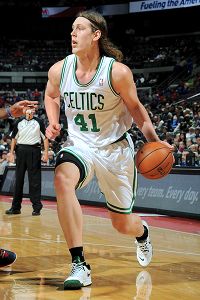 Allen Einstein/NBAE/Getty Images
Celtics rookie Kelly Olynyk.But through two games (an admittedly small sample), he wasn't even the most buzz-worthy rookie on the team (that distinction fell to Brazilian import and starting center Vitor Faverani). Even undrafted rookie free agent Phil Pressey generated more chatter at the start of the weekend for logging a DNP as Boston struggled to take care of the ball with its only other pure point guard (Rajon Rondo) rehabbing from ACL surgery.
After blending into the scenery for two games, Olynyk broke through in the second half of Sunday's 87-77 loss to the Detroit Pistons. The 22-year-old forward scored 10 of his team-high 15 points after intermission and grabbed all eight of his team-high rebound total in that same span. Olynyk's efforts helped Boston twice rally from double-digit deficits before some turnover woes helped the Pistons race away in the final minutes.
It took Olynyk a little while to get going. For parts of the first half, he seemed slow to get back on defense and couldn't corral a couple of rebounds in his vicinity. At halftime, he had only five points on 2-of-5 shooting with zero rebounds and a turnover and was minus-8 in plus/minus.
The second half was far more encouraging. Shortly after checking in midway through the third quarter, Olynyk got the ball in the post and when Greg Monroe overcommitted, he was able to attack the hoop and muscle in a layup in traffic. Soon Olynyk was filling the lane as a trailer in transition or slashing baseline when the defense gave him space. With three minutes to go, he followed a Brandon Bass miss with a two-handed putback slam. Olynyk played 16 second-half minutes, including all but 101 seconds of the fourth quarter.
Olynyk, the 13th overall pick in the 2013 draft, is going to get every chance to earn big minutes this season. First-year coach Brad Stevens has leaned heavily on a four-man bigs rotation, and Olynyk's scoring ability makes him especially valuable. Defensively, he must show improvement, but a rebounding effort such as the one he displayed Sunday night will help his cause (his ability to clean the glass was one of the questions marks coming out of college).
Olynyk will be key to Boston's second-unit success and, through three games, the bench has struggled to give Boston a boost. That's reflected in Olynyk's less-than-stellar splits thus far. Boston's offensive rating has been nearly 10 points worse (83.9 points per 100 possessions) in Olynyk's 56 minutes of court time, and the team's defensive rating has been 13 ½ points worse (115.6). It's hard to put all the blame on the rookie and those numbers are likely to even out with extended playing time with multiple units.
As the Celtics endure an 0-3 start and the growing pains of any transitioning team, Olynyk's effort Sunday was a little bit of Sunshine (the nickname, based on the "Remember the Titans" character, given to him by Jeff Green) as another game slipped away in the final moments.