The Boston Celtics turned the ball over a head-shaking 21 times during Sunday's 87-77 loss to the Detroit Pistons, including three times in the final 102 seconds of what had been a one-possession game. Two of those turnovers belonged to Avery Bradley, who had six in the second half. But blaming Boston's sloppy play solely on Bradley is misguided.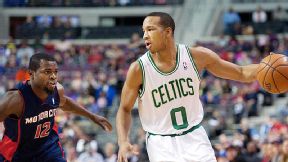 Tim Fuller/USA TODAY Sports
Avery Bradley at work vs. the Pistons.Bradley, Boston's primary ball-handler while Rajon Rondo rehabs from ACL surgery, had a couple of careless giveaways during Sunday's game. But Bradley's four third-quarter turnovers were all somewhat forgivable. A quick breakdown:
* Turnover 1: Will Bynum made a nicely timed stab at the ball from behind as Bradley drove.
* Turnover 2: During a scramble for a loose ball, Bradley was too weak with an attempt to feed Brandon Bass on the break.
* Turnover 3: Vitor Faverani simply botched a catch in the post.
* Turnover 4: Jeff Green fumbled a pocket pass on the break.
Bradley did have two bad giveaways late. With Boston down four and 1:29 to go, Bradley drove to his right and lost the handle on the ball, sending it out of bounds. Next trip down, the ball either slipped or Bradley was too hesitant on a simple pass to the right wing and the Pistons picked it off.
Turnovers in general are a concern for Boston. The Celtics are dead last in turnover percentage (22.4 percent) through three games and the league average is roughly six percent lower. Boston has given the ball away 63 times in three games and the Celtics are lucky opponents have only turned that into 57 points.
For Bradley, running the point is not ideal and Boston often benefits when it pairs him with another guard to defray ball-handling chores. Alas, there's no better option at the moment (unless Brad Stevens desires to toss undrafted rookie free agent Phil Pressey into the fire). Utilizing Bradley as the only pure guard has allowed Boston to get creative with its starting lineup, using two swingmen (Gerald Wallace and Green) with two other bigs (Bass and Faverani).
Bradley, who underwent concussion testing last week that was negative after a hard fall on opening night, aggravated a left index finger injury in Sunday's game, but X-rays were negative, according to the team. That index finger has been bothersome for Bradley since camp when he originally tweaked it, but previous tests revealed no concerns.
The lingering concern for Bradley at the moment is his offense. The fourth-year guard is shooting 25 percent beyond 5 feet this season. What's more, according to Synergy Sports data, he's averaging 0.527 points per play, which ranks him in the sixth percentile among all league players (of those with at least 50 possessions finished, Bradley ranks 53rd out of 53 players in points per possession).
The bright side: Bradley was 5-of-7 shooting for 11 points in the second half of Sunday's loss. And his defense has been as excellent as expected (allowing only 0.621 points per play, according to Synergy). Boston's defensive rating (102.2 points per 100 possessions) drops 10 points when Bradley is on the floor (and rises 20.4 when he's not).
A couple of other quick notes:
* GREEN WITH ENVY: Jeff Green didn't play the final 14:41 of Sunday's game, sitting out the entire fourth quarter. After the game, Stevens told reporters that he simply rode a hot lineup (one that featured Bradley, Courtney Lee, Gerald Wallace, Brandon Bass, and Kelly Olynyk) down the stretch.
* DETROIT ROCK CITY: Jordan Crawford seemed to get a burst from playing in the city where he was born. Crawford scored 13 points on 5-of-10 shooting over 22 minutes. Crawford was plus-3 overall for the game, one of only two of Boston's players in the positive. (MarShon Brooks the other).