Even before the Boston Celtics faded late in Monday's 95-88 loss to the Memphis Grizzlies, there were those who wondered out loud, "Did we know that it was going to be this bad?"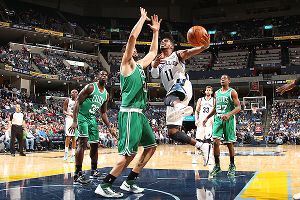 Joe Murphy/NBAE via Getty Images
Vitor Faverani defends the basket on Monday in Memphis.Bad!? The Celtics have taken all four of their opponents to the final buzzer, at least giving themselves a chance to win each game this season. You actually could make the case that we didn't know they'd be this good. Most pundits thought Boston's young roster under a first-year coach would get run out of the gym most nights.
No, these Celtics have been your typical young NBA team. They show glimpses of potential, they endure maddening lulls in execution on both ends of the floor, and they watch opponents make the crucial plays at the finish line. It's a script that will play out numerous times this season. But it could probably be a lot worse than what we've seen thus far.
On Monday, the Celtics took up the rear in ESPN.com's latest NBA power rankings. A winless first week saw them plummet to the cellar, staring up at all 29 other teams. Is Boston really the worst team in the league? That seems impossible.
Boston has played surprisingly decent defense (the Celtics are 18th in the league in defensive rating; 10th in points allowed per possession) and that's aided the team in rallying from multiple double-digit deficits to make things interesting down the stretch in each of its four games. Right now, the Celtics don't have the individual talent to win close games and this young roster must figure out how to work together, particularly when things get tense late in the fourth quarter, in order to pull out close games.
Listen, no one likes moral victories and Boston can't rest on the idea that, 'Hey, no one expected us to win, so at least we're being competitive!' But given all the obstacles working against the team -- no true point guard while Rajon Rondo rehabs, an inconsistent Jeff Green, the lack of a true go-to presence, being undersized up front, a poorly balanced roster with logjams at multiple positions -- Boston at least has made things interesting thus far.
Coach Brad Stevens had never endured a four-game losing streak in his career before this season. No one said this was going to be easy. As Boston navigates a brutal November stretch, the team likely will continue to take its lumps and must lean on the progress it is making (even if, as Stevens acknowledged, those moral victories mean little inside his team's locker room).
If the Celtics desire to dent the actual win column, here are a few questions that need to be answered:
* Can Jeff Green be a consistent presence? Before the regular season tipped, Green promised he'd have more good nights than bad. Through four games, his personal scoreboard reads 2-2. We'll put Monday's effort in the positive column (22 points on 6-of-12 shooting with five rebounds over 40:27), but the fourth quarter nearly spoiled it for him. Green was 0-for-3 shooting with zero points over 9:30 in the fourth quarter on Monday and minus-15 in plus/minus for the frame. All three shots he took in the quarter were 3-pointers (two of which came in the final seconds). Before that, Green lost all the aggressiveness that made the start of his night so strong. Like his teammates, he is still searching for that elusive 48-minute effort.
* Do the Celtics need more Jordan Crawford? With Avery Bradley in early foul trouble, Crawford provided a burst of offense (12 points on 4-of-7 shooting) off the bench Monday and again showcased his passing skills (team-high four assists). Crawford isn't the solution at point guard, but the team was most successful with him on the floor Monday. We saw a lot of Bradley/Crawford pairings in the preseason and it's worth considering again given how it allows Bradley to play his more natural shooting guard spot at times. Bottom line: Boston's offensive rating is nearly 10 points higher than the team average when Crawford is on the floor (though he needs to improve his defense to justify bigger minutes).
* Can Stevens nail down a minute distribution? Jared Sullinger played his best game of the season on Monday, putting up 16 points and five rebounds over 20:42. He even had a 3-point attempt in the final minute with a chance to tie the game. As Sullinger's floor time increases, how will that affect Boston's already crowded bigs rotation? Brandon Bass went cold Monday, but had been excellent at both ends of the floor this season (he's been the defensive anchor that Stevens wanted in the frontcourt). In need of minutes for others such as rookie Kelly Olynyk, Stevens has been forced to glue Kris Humphries to the bench (and even starter Vitor Faverani has struggled to earn late-game playing time). At the guard spots, Crawford and Courtney Lee have been enough of a jolt that MarShon Brooks and Phil Pressey have seen only brief cameos this season.
* When will the team realize it must run? Stevens spent much of the preseason looking like a traffic cop while imploring his team to run more often after defensive stops. Four games in, he's still begging them to get moving. The Celtics have not been a particularly efficient transition team (Synergy Sports data ranks them 23rd in the league averaging 0.984 points per play). But the Celtics have often been a disaster in halfcourt sets, settling for low-percentage shots in late-clock situations (Boston averages 0.816 points per play in halfcourt opportunities per Synergy). Especially without a pure point guard, Celtics players have to get used to grabbing rebounds and attacking immediately instead of walking the ball up the floor. Boston is 30th in pace this season and 28th in offensive rating.