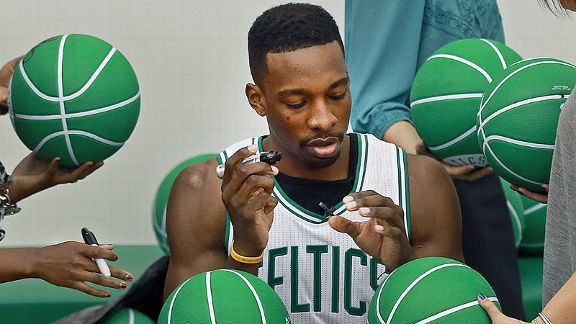 Jim Davis/The Boston Globe/Getty Images
There's a lot of demands on Jeff Green this season. Is he up for the challenge?Before the Celtics came together for training camp for the 2013-14 season, Jeff Green acknowledged the new target on his back. With an overhauled roster that shipped two Hall of Famers out of town, and Rajon Rondo rehabbing from ACL surgery to start the year, Green was in the spotlight and, coming off a breakout postseason performance, he welcomed it.
"When you start playing basketball, that's what you want," said Green. "That's what you work hard for: to be called one of the go-to guys. This is what I've dreamed about, this is what I've worked hard for. It's all coming to fruition right now."
A day before the start of the season, coming off an underwhelming preseason, Green calmly acknowledged that he would be under the microscope this season, but he still didn't run from it.
"I have to take on the challenge of being that guy," said Green. "Of course I'll have my ups and downs, but I'll have more ups than downs. I can guarantee you that."
With that in mind, we're tracking Green this season to see if he can live up to his word. We'll take a weekly glance at his performance, trying to assign a simple "up" or "down" grade for his efforts (and feel to argue one way or the other). Advanced stats (points per possessions) courtesy of Synergy Sports data.
THE GREEN GAUGE: 2 UP, 2 DOWN (through 4 games)
Game 1 at Toronto
The box score: 25 PTS, 5 REB, 2 AST, 37 MIN, 8-16 FG, 2-3 3PT, 7-9 FT
Advanced stats: Offensive: 1.19 PPP (25 points, 21 possessions) Defensive: 0.917 (11,12)
The vote: UP. Green had a phenomenal start to the new season, displaying the exact aggressiveness towards the basket that was missing for much of the preseason. He didn't have a great defensive game, but took on the challenge of guarding some of Toronto's top scorers (DeMar DeRozan and Rudy Gay).
Game 2 vs. Milwaukee
The box score: 13 PTS, 9 REB, 1 AST, 38 MIN, 4-13 FG, 1-3 3PT, 4-7 FT
Advanced stats: Offensive: 0.650 PPP (13 points, 20 possessions) Defensive: 0.667 (4,6)
The vote: DOWN. Despite an excellent rebounding game, Green lost his aggressiveness on offense. In the second half as Boston kicked away a 22-point lead, Green was 0-for-7 shooting with 2 points and was a minus-20 in plus/minus overall.
Game 3 vs. Detroit
The box score: 7 PTS, 2 REB, 2 AST, 20 MIN, 3-5 FG, 1-3 3PT, 1-1 FT
Advanced stats: Offensive: 1 PPP (7 points, 7 possessions) Defensive: 1 (5,5)
The vote: DOWN. Green got glued to the pine over the final 14:21 as coach Brad Stevens watched a mix-and-match lineup twice rally from double-digit deficits to make things interesting.
Game 4 vs. Memphis
The box score: 22 PTS, 5 REB, 1 AST, 40 MIN, 6-12 FG, 1-4 3PT, 9-12 FT
Advanced stats: Offensive: 1.16 PPP (22 points, 19 possessions) Defensive: 0.625 (5,8)
The vote: UP. For three quarters, Green was back in attack mode, going right at the hoop in transition and taking advantage of his athleticism. He nearly spoiled it in the fourth quarter, however. He missed the only three shots he took in the frame, all from beyond the arc and two of which came in the final minute.
WEEK 1 PROGRESS REPORT: The roller coaster has begun and we've already seen the highs and lows of Green. In Game 1, he was phenomenal and Stevens need to figure out how to bottle that. Two games later, Stevens stuck him on the bench in crunch time. Teams are clearly going to focus on Green as Rondo rehabs, but he can't be content to drift around the perimeter.