The Utah Jazz visit the Boston Celtics on Wednesday night and Gordon Hayward will be a popular man given how he played for Brad Stevens at Butler. Forgive Boston fans if they are daydreaming of seeing Hayward in green in the future, particularly after the Jazz failed to work out an extension with him before the Halloween deadline to extend rookie pacts. Even ESPN.com's Marc Stein hinted at the possibility as part of his fearless predictions for the 2013-14 season: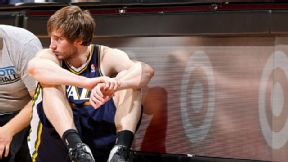 David Sherman/NBAE via Getty Images
Gordon Hayward a future target?
There are too many Hayward fans in front offices around the league for the former Butler star not to cost the Jazz more later than a deal would have cost them now, given how many teams are projected to have cap space and knowing that the price tags on restricted free agents are always higher than they seemingly should be because the bidders are trying to dissuade the home team from matching. ... The Suns and Boston Celtics -- just to name two franchises known to be big Hayward admirers with Jeff Hornacek and Brad Stevens running their respective benches -- are among those projected to have the cap space to put an uncomfortable offer on the table. Utah, of course, will have plenty of its own cap space to match a max offer if necessary, but doing a deal with Derrick Favors when Hayward might be an even bigger part of Utah's future ... struck me as curious to say the least.
The Celtics would seemingly have to do an awful lot of trimming this season to put themselves in position to be offering max deals this offseason (it's not impossible, but if Boston clears that much space it simply becomes is Hayward the guy you want to offer max money). The Celtics also have that $10.3 million trade exception in their back pocket for potential sign-and-trade possibilities. Regardless, the Stevens-Hayward connection will leave Celtics fans dreaming of a Butler reunion in Boston.