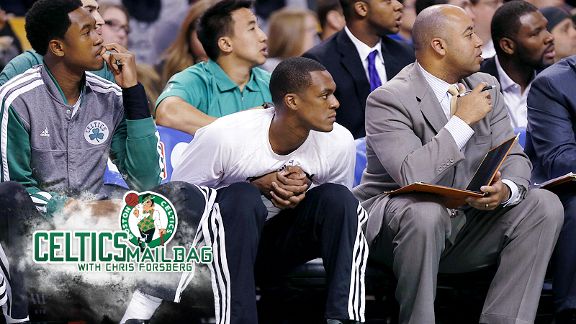 AP Photo/Michael Dwyer
Without Rajon Rondo, the Celtics are off to an 0-4 start.The Celtics' 0-4 start is no shocker, but it's tough to watch for a town still cleaning up confetti from a victory parade. A sample from our latest Celtics Mailbag:
Q: I'm so confused about how to feel about this 0-4 start. Help me make sense of it all. -- Erik (Plano, Texas)

A: It's a process. For a city spoiled by the success of its sports teams, watching the Celtics get pegged as the worst team in basketball isn't easy to swallow. As hard as it may be, Celtics fans have to ignore the win-loss record and try to gauge success by development, both by individual players and the team as a whole. The fact that they've been competitive despite the circumstances should be encouraging to fans, and the losses aid draft position. In a way, some see that as the best of both worlds. Silver linings are not as fun as gold trophies, but you can still find enjoyment in this Celtics season if you focus on the growth and the climb toward an end goal (as rocky as the path to that point may be).