BOSTON -- Before Wednesday's visit from the Utah Jazz, a couple of Boston Celtics players remarked about how much Brad Stevens knew about Gordon Hayward from the team's scouting session. Not surprisingly, Hayward's collegiate coach was able to dissect his game inside and out.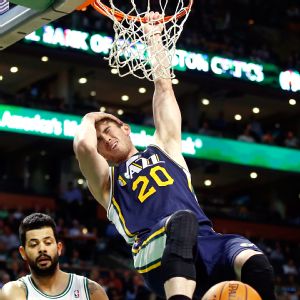 AP Photo/Elise Amendola
Gordon Hayward couldn't watch as the Jazz fumbled away an early 13-point lead versus the Celtics.That doesn't mean Stevens could stop him. Hayward scored a game-high 28 points on 12-of-20 shooting with nine rebounds, five assists and a steal over nearly 40 minutes of floor time. However, it was the professor who emerged with the win over student as Stevens notched his first NBA regular-season victory in the Boston Celtics' 97-87 triumph over the Utah Jazz on Wednesday at TD Garden.
Before the game, when a small mob of reporters herded around Hayward outside the visitor's locker room for a trip down memory lane, the goal was to get the scouting report on Boston's first-year coach. For instance, does he ever yell?
"You'd have to be at practice to find that out," said Hayward, confirming stories told about how Stevens would end practice sessions at Butler early if players weren't focused. "He kicked us out of practice a couple times when we weren't doing things the right way. He's extremely detail-orientated. When you're not focusing on those details, he gets pretty upset about that.
"I think there's different ways of coaching and he just didn't take the yelling approach all the time. When he needed to yell at us, he did, but for the most part, he took a different way of coaching."
That's better reflected in Stevens' flat-line sideline demeanor.
"He's just always calm, no matter what situation we were in; he always knew what we needed to do and communicated that with us extremely well," said Hayward. "As a player, when your leader is calm and collected, it kind of makes you relaxed as well. I think he was able to be so calm because of his preparation he did before. He was always prepared, and he taught us to always be prepared, too."
Yes, it was a bit of a gushfest as Stevens and Hayward spent the night volleying verbal bouquets.
Speaking of tennis, that's where Stevens' mind wandered when asked about recruiting Hayward. Calling Hayward one of the top 10 high school tennis players in the state of Indiana, Stevens recalled going out to one of Hayward's matches as a senior. It turned out to be his only regular-season loss and Stevens said he left just as upset after seeing Hayward wearing a Purdue hat/shirt combo.
Stevens also beamed like a proud father when discussing how Hayward's hard work at Butler not only elevated the Bulldogs to a national title contenders, but put the player in position to be a lottery pick after his sophomore season. Now they're both in the NBA and Hayward still can't say enough about what Stevens meant to him.
"I love what he stood for as a person and he treated everybody that he recruited as family," said Hayward. "I love that about him; it was a family atmosphere first and foremost. Obviously, the basketball was pretty great as well. He was a good coach and I like what he stood for."
Could that family atmosphere translate to the NBA with Stevens?
"I think so, to some extent," said Hayward. "Guys are a little older and it's just different because, in college, everyone is kind of the same age. But you look at some of the best teams and they kind of treat each other like family out there on the court and they have that chemistry. And I think what I mean by that is guys would rather do something for the team than for themselves. That can definitely translate to the next level."
After the game, Stevens simply marveled at Hayward's progression, joking he wished he would have eased up down the stretch to make things a little less interesting.
"He's a lot better than when I coached him," said Stevens. "Man! And he was good when I coached him. I thought he was the best player in college at the time, and, man, has he improved. I'm proud of him. Again, I can't tell you what that feels like, because I was there when he was a puppy, when he was a junior in high school and he was a good tennis player and nobody was recruiting him. And it was like, 'You think we should offer that guy a scholarship?' Nobody's looking at him. Nobody's even in the building.
"It was probably a good decision, in retrospect. He's awfully good."