BOSTON -- The Boston Celtics were celebrating their first win of the 2013-14 season when Brandon Bass playfully chastised Gerald Wallace for nearly injuring him while motoring through a screen. Bass asked if Wallace had a nickname.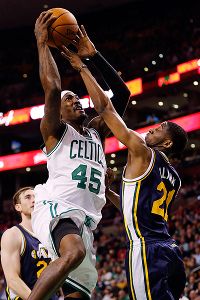 David Butler II/USA TODAY Sports
Gerald Wallace attacks the basket Wednesday night against the Jazz.An incredulous Wallace thought he was joking. He was stunned that many of his new teammates didn't know of his "Crash" moniker, earned for his full-throttle (and often reckless) style of play.
Wallace could have used the opportunity to reinvent himself. After all, that's what he's being asked to do on the floor. Celtics first-year coach Brad Stevens informed Wallace before Wednesday's winless showdown with the Utah Jazz that he'd be shifting to a bench role in hopes of giving Wallace a jolt and providing Boston's inconsistent second unit with a spark, too.
Wallace admitted wasn't thrilled with the decision. He had started 590 of 608 appearances over the past 10 seasons (eight of those bench games coming after he was dealt to Portland late in the 2010-11 season). Now on a winless, rebuilding team he was being asked to play a backup role.
If he was upset, Wallace changed his tune after a 97-87 triumph at TD Garden. At least for one night, he's embracing the idea of the reserve role, going so far as to suggest that "this might be the best thing for my career." In Wallace's eyes, the only thing that matters at this stage of his career is winning, and the Celtics are 1-0 when he comes off the bench.
"You can't be mad after tonight's result," said Wallace. "We got our first win with it. ... I think the whole shocking part about it was that it's new for me. This is my 13th season and, other than being on the bench my first three years in Sacramento, I've always been a starter. I've busted my butt to be a starter, trying to be productive in that first starting unit, and this is the first year that I'll have to come off the bench. So it's a new process. It's often confusing when something new is thrown at you at the start."
What isn't as surprising is how Wallace has spoken openly and honestly since he arrived in Boston as part of the summer blockbuster with the Brooklyn Nets. During his first chat with reporters on media day, Wallace admitted it was awkward being thrust into a rebuilding project but said he'd give himself completely to aiding the team's transition process. In little more than a month, he's twice called out his teammates (once for a lack of effort, and again for selfish play) but has emerged as a leadership voice on a young team.
Wallace, quiet offensively through Boston's first four games of the season, turned in 16 points on 3-of-5 shooting with a team-high nine rebounds and three assists over 23 minutes on Wednesday against the Jazz. He was plus-16 in plus/minus and joined forces with Jared Sullinger (plus-18) and Kelly Olynyk (plus-10) to spark a second unit that turned the game around after Boston fell behind by as much as 13 early on.
"I told Gerald this today: I thought the Sully-Kelly [pairing], with their ability to pass and stretch the floor, would open up some driving lanes for [Wallace]. And some plays for him," said Stevens. "Those three guys complement each other pretty well. So I kind of made up my mind last night that we were going to go with Gerald off the bench, and then went from there."
The way Wallace accepted his reserve role and still gave 110 percent wasn't lost on his teammates.
"A true professional," said Jeff Green. "He still came to work. His play was big. The defense that he had, the energy he gave us, he was the reason that we got the lead that we got. For him to be told, probably this morning, that he wasn't going to start and then to come out and play the way that he did, that's just a true professional. We've got to try and feed off of what he does. He's one of our leaders and he shows a lot of heart when he's playing, and he really showed it by coming out and playing the way he did."
Asked if the bench role would change the way he plays, Wallace defiantly noted, "No, you can't change the way I play. I'm going to play that way if I'm at home playing against my kids. That's just the way I play."
Wait, so he crashes into his kids?
"Yeah, a whole lot," joked Wallace.
A reporter asked if Wallace was familiar with the history of sixth men in Boston, the success stories of John Havlicek, Bill Walton and Kevin McHale. Wallace just shrugged, then noted he's not even a sixth man.
"Sully was the first one off the bench, I'm the seventh [man]," said Wallace.
That's not easy to accept considering the circumstances, but Wallace isn't arguing with the initial results. He'll be the 14th man so long as the bottom line is wins.
As he reaffirmed after Wednesday's game, "I'm here for the team, and whatever the team needs me to do to win is what I'll do."