Boston Celtics president of basketball operations Danny Ainge said Thursday that point guard Rajon Rondo has been cleared for limited contact activities, but is still awaiting medical clearance to return to full-squad workouts.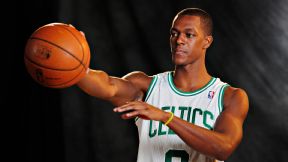 David Butler II/USA TODAY Sports
Rajon Rondo is still waiting for clearance to resume full-squad, full-contact workouts.Making a weekly appearance on 98.5 the Sports Hub, Ainge offered a brief update on Rondo's progress from ACL surgery in February.
"Rondo is practicing, he's been cleared to have some contact, like 1-on-1, but not 5-on-5 full-court practice yet," said Ainge. "We're just taking it week by week right now, but he's not ready to come back this week. I'm not sure when he'll be cleared, but he's working really hard and we're anxious to get him ready to go."
Pressed on getting Rondo back on the floor, Ainge added: "I trust Rajon and I trust that he wants to play. Ultimately, he's going to be the one determining that, not doctors and everybody else. He's a smart kid and if he's not feeling comfortable, mentally or physically, I trust that he'll make the right decision."
At the end of the preseason, Rondo noted he's been fitted for his first brace and said he hopes contact would follow soon after, but he's still awaiting that clearance from his operating surgeon, Dr. James Andrews. Rondo participates in the team's practices and shootarounds as able, and has traveled with the team, serving in an assistant coach-like role while he rehabs.
Celtics coach Brad Stevens has gushed about what Rondo's presence means to the team even as he's working his way back to game action. Ainge noted Thursday that Rondo's input can help a first-year coach.
"Brad and Rajon have a very good relationship and they talk all the time," said Ainge. "Rondo's out on the court and in practice -- he's practicing every day. He's got input that is certainly listened to, by all the coaches and by all the players. He's earned that respect."