WALTHAM, Mass. -- In his role as Secretary of Defense for these new-look Boston Celtics, Avery Bradley needed just one training-camp practice before proclaiming that Brandon Bass would be the team's defensive quarterback and the player tasked with the impossible chore of replacing Kevin Garnett on the back line.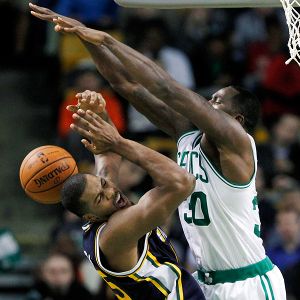 AP Photo/Elise Amendola
Brandon Bass ranks as the NBA's stingiest individual defender through his first five games.Most scoffed. Bass had put up some solid defensive numbers while paired with Garnett in Boston's starting frontcourt the past two seasons, but, without Garnett, most figured Bass would be exposed.
After all, Bass doesn't fit the typical anchor mold. He's not 7 feet (he's generously listed at 6-foot-8). He's not particularly vocal (certainly not to Garnett's amp-on-11 level). And because he's often paired with some inexperienced frontcourt players, few believed Bass could perform to that level.
It has been only five games -- and Boston has just one victory -- but Bradley's prediction looks sage at the moment.
Bass is allowing a minuscule 0.528 points per play (28 points on 53 possessions), according to individual defensive data logged by Synergy Sports. Consider this: Of players with more than 40 possessions defended entering Thursday's action, Bass ranked first in the NBA at that mark (out of 120 qualifiers). What's more, opponents are scoring on a mere 22.6 percent of total possessions again him, the best mark in the league by nearly 3 percent.