WALTHAM, Mass. -- Courtney Lee shot a career best from the field during his first season in Boston, but you'd never know it.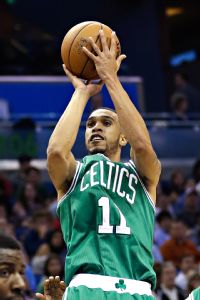 AP Photo/John Raoux
Courtney Lee has regained confidence in his shooting stroke.Even after shooting a more-than-respectable 46.4 percent overall, including a strong 44.2 percent clip on corner 3-pointers, Lee spent much of the offseason trying to figure out why his shot had failed him last season.
So when he arrived back in Boston this past summer, he sought out video coordinator/assistant of basketball development Kwame Graves-Fulgham and asked him to splice together clips of his jump shot from throughout his career.
What Lee saw on film stunned him. At some point last season he developed a bit of a hitch in his shot that hadn't existed before, and it was obvious on tape.
"I don't know where it came from, I was swinging the ball from my left side to my right when I shot," said Lee. "In the years before, I never did that. I had to get back to working on not doing it."
Like a golfer tweaking his swing, Lee refined his stroke entering the season and said he felt as confident as ever in his shot. It helps that he's been able to take it on the course, shooting 65.5 percent overall (and 75 percent from beyond the arc) during Boston's past five games, averaging nine points per contest in that span.
Lee is doing his part to infuse some offense into Boston's second unit, which was inconsistent at the start of the season as Boston lost its first four games. Aided by a tweaked reserve unit, the Celtics have won four straight to pull back to .500, and Lee finally feels comfortable with his shot.
"I'm back to playing with confidence," he said. "Taking my shots, playing within the flow, pretty much back to playing the way I was playing before I came to Boston last year."