WALTHAM, Mass. -- It might have been partially inspired by the Boston Red Sox, or maybe Courtney Lee just wanted a different look for the new season. Regardless, when Jeff Green caught notice of Lee's growing chin whiskers earlier this month, both Boston Celtics players decided to embrace No-Shave November.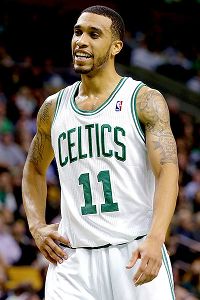 Alex Trautwig/Getty Images
Courtney Lee is letting his chin whiskers grow this month."When I told [Green] I wasn't shaving this month, he was like, 'You know it's November,'" said Lee. "I was like, 'Cool, let's do the No-Shave November.' So I'm already three weeks ahead of Jeff. We're going to do it for this whole month."
Lee proudly stroked at his chin while noting that this is the thickest his beard has ever been. It's safe to say both players are in the infant stages of their beard growth. And Lee isn't sure he'll get anything close to what the Red Sox players grew during their World Series run.
As for Green, he noted: "I'm more in the Big Papi stages right now. It's coming along."
Lee said he's trying to recruit others on the team to join the no-shave club -- which would further help raise awareness for cancer and maybe even facilitate some team bonding -- but others have been resistant thus far.
"I'm trying to get some of the other dudes to do it, but they think they're too cute around here to do it," joked Lee while screaming in the direction of a couple nearby teammates. "But they're really not. Quote me."