BOSTON -- Who knows if Jared Sullinger could have saved the Boston Celtics from themselves on Wednesday night. But you can't shake the feeling that he would have helped.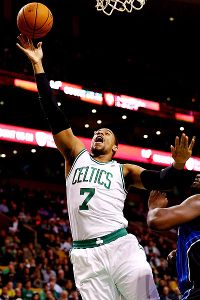 Alex Trautwig/Getty Images
The Celtics missed Jared Sullinger on this night.The Celtics allowed the visiting Charlotte Bobcats to start fast and build an early double-digit lead and Boston never cranked up its own level of play enough to compensate, dropping an 89-83 decision in which Boston trailed from start to finish.
Here's the nitty gritty: Sullinger has been a plus/minus beast for Boston since he slid into its lap in the 2012 draft. In the 138 minutes he's played this season, Boston is plus-30 and owns glossy ratings (points per 100 possessions) on both offense (107.4) and defense (98.9). In the 294 minutes that Sullinger has been off the floor, Boston is minus-38 and its ratings sputter on offense (94.4) and defense (100.8).
Sullinger's impact is impossible to ignore; good things happen when he's on the court. The team rebounds better, it defends better, it passes better. The second-year forward is an extremely important part of any success this team will enjoy this season. To bottom line it: The Celtics are 0-2 in the games he's missed this season and 4-3 when he's played.
Sullinger missed Wednesday's game when a bone bruise on his right knee left him unable to dress. He remains day-to-day while waiting for the pain to subside after Orlando's Mo Harkless bumped the knee while Sullinger took a charge in the first half of Monday's win over the Magic.
Celtics players acknowledged that not having Sullinger hurt the team on Wednesday.
"He's our post-up threat," Gerald Wallace said. "He puts pressure on the defense by getting in the blocks, posting up -- I don't think we had a lot of post-ups other than Jeff Green posting up. With him out, that really makes us a perimeter-oriented team."
That perimeter-oriented team shot 37.7 percent overall and a mere 29 percent outside the paint.
Asked how much the team missed Sullinger, Green added, "A lot. Another big to put on Al [Jefferson], to put on the boards. He's a big key to what we're trying to do. It's tough without him, but when a guy goes down, somebody has to step up in any kind of way."
Kris Humphries was supposed to take Sullinger's minutes, but was ineffective. He registered just one point and zero rebounds over 9:47. The Celtics instead leaned hard on rookie center Vitor Faverani, who provided a boost on the glass (nine rebounds) and protected the rim. Faverani was a team-best plus-10 in plus/minus, but struggled with his shot (7 points on 2-of-8 shooting). Kelly Olynyk grabbed a team-high 11 rebounds, but never got going offensively (6 points on 1-of-4 shooting) and was a team-worst minus-11.
"Any time one of your better players is out, that hurts," coach Brad Stevens said. "But it's not an excuse. You've got 10 guys that played in the game and it's a great opportunity for guys to take advantage when a teammate needs you to step in and fill the shoes. Hopefully we can do that in the future. I've always been big on that next-man-up concept, and certainly can't use it as an excuse if we don't have success when he's out."
A few more quick hits from a burn-the-tape game:
SUMMING UP THE NIGHT IN ONE PLAY: Midway through the fourth quarter, Boston finally rallied within a possession. Ramon Sessions came off a pick-and-roll and, encountering traffic, he tried to kick the ball back out to the top of the arc. Olynyk tipped it and the ball shot straight up. Despite having three white jerseys in the neighborhood, the ball bounced onto the floor and Brandon Bass couldn't scoop it up as Sessions swooped in to corral it. Even as Boston thwarted another drive, the Bobcats were able to swing the ball back to Anthony Tolliver on the right wing in front of the Boston bench. With Crawford caught straying a bit too far, Tolliver knocked down one of three 3-pointers on the night with less than a second on the shot clock. The inability to get that initial 50/50 ball was the sort of play that killed Boston all night.

CRAWFORD PROVIDES AN OFFENSIVE JOLT: After a sluggish first half, Jordan Crawford tried to give Boston a spark by attacking the basket (and trying to exploit a matchup with Kemba Walker). He finished with 16 points on 6-of-15 shooting with six assists, five rebounds and two steals over a team-high 35:22. "I felt we were a little slow and I felt like the way for us to open up the offense a little bit was for me to attack," Crawford said. "I just tried to do that a little bit and open it up for my teammates."

EYE ON THE COLLEGE GAME?: Stevens was asked if he watched any of the star-studded collegiate games on Tuesday night. He offered, "I did not watch very much last night, maybe for a couple of minutes here or there." When the conversation swung to whether he missed the college game after Butler University opened up this past weekend, Stevens noted, "I told my wife this morning, the only thing I miss from the college game is the people that I was around every day. Otherwise, this is a unique new challenge. Basketball is basketball in a lot of ways, but certainly the thing you miss are the people."