Earlier this week, Avery Bradley expressed disappointment in himself for failing to give his all on the court. For whatever reason, the fourth-year guard just wasn't himself in a pair of recent games, prone to untimely missteps that hurt his team as the Boston Celtics embarked on what's now a three-game losing streak.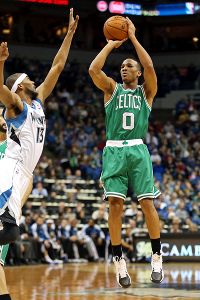 Jesse Johnson/USA TODAY Sports
Avery Bradley pulls up for a jumper against the Timberwolves.On a night thin on positives, Bradley was maybe Boston's only real silver lining in a 106-88 loss to the Minnesota Timberwolves on Saturday at the Target Center. Bradley scored a team-high 27 points on 12-of-23 shooting. The offensive outburst was one point shy of his career high (28 versus Atlanta on April 20, 2012) and matched his career high for field goals in a game.
Bradley thrived in the midrange, making 9-of-13 attempts in that zone. Last week we spotlighted how much better Bradley has been playing off the ball, but carrying the offense on a night when Boston's other go-to presences disappeared (Jeff Green and Jared Sullinger were a combined 1-of-12 shooting for 5 points) was a nice reminder of Bradley's offensive potential from that shooting-guard spot.
Bradley is playing with immense confidence in his midrange shot, connecting on a sterling 47.7 percent (31-of-65) of attempts this season. Early in Saturday's game, he fearlessly fired away while coming off screens at the top of the key. And he was able to create shots off the dribble on the wing, stepping back at times to create space for his jumper.
One area Bradley is still looking to re-establish is his 3-point game. Back in that breakout 2011-12 campaign, he shot 40.7 percent beyond the arc and was lethal from the corner. At the moment, Bradley is a mere 5-of-24 (20.8 percent) on 3-pointers (and just 23.5 percent from that corner spot).
Bradley is slowly digging himself out of the offensive hole he fell into while playing out of position at point guard to start the season. Boston's offense still lags with him on the floor. Through 11 games, Boston owns an offensive rating (points per 100 possessions) of only 94.4 in Bradley's 328 minutes of floor time. That's three points less than the team's season average (97.3) and that number jumps to 101.9 when Bradley is on the bench. What's more, Boston's defensive rating isn't as glossy as you might expect, hovering at 100.2 with Bradley on the floor (it is a point better than the team's average and it does rise about three points with him off the floor).
As this week proved, there's still plenty of room for improvement -- and more consistency -- from Bradley at both ends of the floor. But you know defense is typically going to be there from the All-Defensive second-teamer, and games like Saturday show again that he does have potential to be an offensive threat.
A few more thoughts after Boston's loss Saturday to the Wolves:
GREEN AROUND THE GILLS: Green told reporters in Minnesota that both he and the team played like excreta. It's good that he acknowledges a lackluster effort (though it'd be hard to sugarcoat a night when he was 0-for-6 with 2 points over 30 minutes). This was the first time in Green's career that he had been held without a field goal in 30 minutes of play (though there have been five other instances of him not making a basket while playing 20-plus minutes, including twice in Boston). With Bradley firing away, Green slid to second on the team in offensive possessions finished, according to Synergy Sports data. Bradley now tops the team at 173 possessions finished (Green is at 170). Considering Green is supposed to be the focal point of the offense, it's a bit surprising to not find him at the top of the list. Regardless of whether his teammates are getting him involved, Green has to be more aggressive and create opportunities for himself.

ROUGH NIGHT FOR SULLINGER: After playing 36 minutes Friday -- the most floor time of his career that wasn't an overtime game -- Sullinger really struggled Saturday. Maybe the bone bruise on his knee bugged him, maybe his wind was gone after Friday's effort. But Sullinger was minus-27 over a mere 13:42, finishing with 3 points while missing 5 of the 6 shots he took. Essentially he followed one of the finest outings of his career with one of his worst.

TURNING THE PAGE: The Celtics turned the ball over 22 times for 28 points. Woof. Many of their giveaways were cringe-worthy, just lazy passes that never had a chance. This was the first game of the regular season in which Boston didn't have a honest-to-goodness chance in the fourth quarter to rally -- and those turnovers were a big reason why. Boston's starting unit combined for 16 giveaways (four apiece for Green and Brandon Bass).