LOS ANGELES -- At some point, Doc Rivers just had to tell Kevin Garnett to stay home. Every game the notoriously intense Garnett wasn't healthy enough to play was a nightmare. He was insufferable on the bench and worse in the locker room. Eventually Rivers just told him to stay home.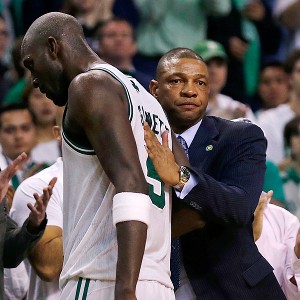 AP Photo/Charles Krupa
Doc Rivers coached Kevin Garnett for six seasons."He drove me crazy," Rivers joked. "It was better for him to just stay home if he couldn't play."
Eventually Rivers accorded Paul Pierce the same latitude. He wasn't as insufferable as Garnett when he was injured, but if KG didn't have to come when he was hurt, Pierce was due the same treatment.
That's how it was in Boston, anyway.
And it appears that's how it'll be in Brooklyn, too.
Instead of a reunion between Rivers and two of the men he'd forged such a deep bond with in Celtic green Saturday night at Staples Center, we got a reminder of just how much things have changed.
Rivers is in Los Angeles now, trying to make winners out of the Clippers. Garnett and Pierce stayed home, resting various injuries. The Nets were trying to win without four of their starters, still wondering if this grand experiment they've leapt headlong into is all going to work out.
The Clippers ended up winning the game 110-103, but that was just the official accounting. Nothing else was settled here Saturday night, and you get the feeling nobody involved in the massive transactions that sent them all to their new homes this summer has a real idea yet how it's all going to work out.
Rivers has bonded with his new stars, Chris Paul and Blake Griffin, but is it as deep as the relationship he had with Garnett and Pierce?
New Nets coach Jason Kidd had a bond with Garnett and Pierce as a player, but will that translate into a coach-player relationship?
The Celtics let them all go before it was too late, but how long will it take to reboot? And even if they can, will it ever be as good as what they had?
It was telling that Kidd went along with a system established for Garnett and Pierce on nights they didn't play. Did he come to the same realization Rivers had? Or was he just choosing which battles to fight?
"That was something we set up in Boston, now the Brooklyn Nets have to deal with it," Rivers said with a laugh. "That was kind of funny.