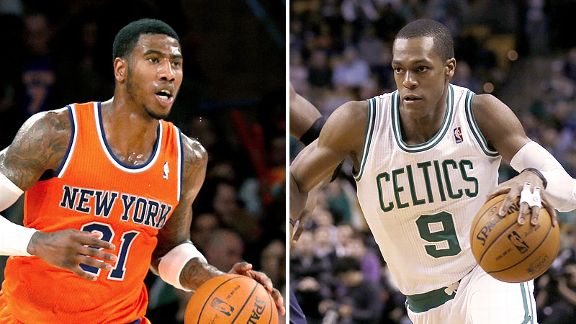 USA TODAY Sports, AP Photo
The Knicks inquired about the availability of Celtics point guard Rajon Rondo.The New York Knicks continue to dangle Iman Shumpert in trade talks, including a recent proposal to the Celtics that would send the third-year guard and Amar'e Stoudemire to Boston in an effort to obtain star point guard Rajon Rondo, league sources confirmed Sunday.
The Celtics, though, have yet to show interest in the deal, instead preferring to unload forward Gerald Wallace in a trade, sources said.
The Knicks have inquired about Rondo in trade talks before, but both times the Celtics made it clear they were not interested in trading him.
Rondo currently remains sidelined while recovering from February ACL surgery.
Sources did say the Celtics would be willing to take on Stoudemire's contract if they could unload some of their longer deals, namely those of Wallace and Courtney Lee.
The Knicks may be reluctant to take Wallace back because they're hesitant to take on salary beyond the 2014-15 season.
The Knicks have three large contracts (Stoudemire, Tyson Chandler and Andrea Bargnani) coming off their books at the end the 2014-15 season and would like to be in position to acquire a top-flight free agent.
A trade including Wallace and Stoudemire would seem to benefit the Celtics financially. Boston is in rebuilding mode, and Stoudemire's contract expires a year before Wallace's.