Rumor season arrived early this year. Yippee.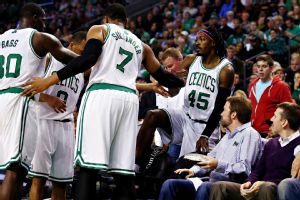 Alex Trautwig/Getty Images
Gerald Wallace and his contract will be one of the focal points of rumor season for the Celtics.Rajon Rondo's name bubbled up in trade whispers Sunday as the panicked New York Knicks began pondering ways to overreact to an underachieving start. It was, of course, nothing from Boston's perspective.
Maybe this chatter was inevitable. The Boston Celtics are a team in transition with an unbalanced roster and they are going to find their way into plenty of trade scenarios between now and February's deadline.
Most observers were able to easily dismiss the idea of the Knicks' "offer" in this case, but here's a few friendly reminders when gauging the feasibility of the other trade rumors that will emerge:
The Celtics place an incredibly high value on Rondo: It doesn't matter how often Danny Ainge repeats that the Celtics currently have no interest in trading Rondo, his name is going to come up. This despite the fact that his value really could not be any lower as he works his way back from ACL surgery. It's been nine months since Rondo could remind everyone of his value on the floor and the Celtics won't get the sort of worth they'd be seeking to consider moving him. Let's bottom line it this way: The only time that Ainge said he has seriously considered trading Rondo was when Chris Paul was the potential return haul. You know, the guy who finished fourth in MVP voting last season. That's the type of talent Boston is seeking to start a Rondo discussion. And that's because …

You never trade a top 15 player without getting a top 15 player in return: Iman Shumpert is a nice young talent, an improving offensive player with an excellent defensive skill set. But he was ranked 119th in ESPN's latest version of NBARank. It's unlikely anyone considers Shumpert a potential cornerstone of a franchise. In the NBA, where talent is often king, it's said that you want to bring back the most talented player in any trade. Draft picks can muddy how the "best player" theory is judged, but it's typically pretty clear who got the most talented individual.

What's the rush?: Hearing trade rumors before Thanksgiving seems preposterous. Teams had all offseason to shape their roster and now some are ready to shuffle the deck three weeks into the regular season? The Celtics have a roster with logjams at multiple positions (shooting guard, power forward) and yet Ainge and his staff are in no hurry to unclog them. Why? Because the Celtics are not going to rush into a deal just to make one. Teams rebuilding have to make all the right steps in order to accelerate the transition back to a contender. Taking back anything less than full value, or making a shortsighted move, is a good way to get stuck in rebuilding purgatory. And let's face it, the longer the Celtics wait, the more valuable some of their players will become near the deadline (particularly if those trade assets showcase their individual talents on the court over the next three months).
Ultimately, our rumor season cautions resolve back to patience. Sure, Ainge will happily fleece an overreacting general manager in November if they want to aid Boston's transition process by delivering future assets and/or talent. But the "offer" that floated around Sunday -- and just about anything the Knicks could put together -- is unlikely to accomplish that.
The Celtics have worked hard to best position themselves for the future (i.e., trying to avoid the luxury tax this year) and the only deals they're likely itching to make are ones that bring back clear-cut future assets (particularly draft picks). Boston's goal this offseason should be to unclog its payroll (hey there, Gerald Wallace's contract!) and identify building blocks for the future. Neither will happen overnight.
In the early part of this season, and especially when Rondo is back on the floor, the Celtics must determine who they will construct the next iteration of their team around. Is Rondo the centerpiece? Is thus-far inconsistent Jeff Green a part of that foundation? After being unable to extend Avery Bradley off his rookie pact, what's his value next offseason as a restricted free agent?
Once that evaluation process is complete, Ainge and his staff can better navigate the trade deadline. Players that don't fit the future mold become even more available than they might be at the moment, and there's a more defined path to where the Celtics want to be.
Creating cap wiggle room would help too. The Celtics have roughly $56 million committed for next season (including qualifying offers and nonguaranteed deals). To put themselves in position to target key players -- and potentially use that $10.3 million trade exception from the Brooklyn Blockbuster -- Boston needs to cut costs. It's hard to imagine those logjams at certain spots persisting past February if the right opportunities come along.
Welcome back, rumor season. Make yourself comfortable. You're here for 93 more excruciating days. But you're a necessary evil for this Celtics team. Navigate with caution.