The Boston Celtics gave us a glimpse of the future on Wednesday night.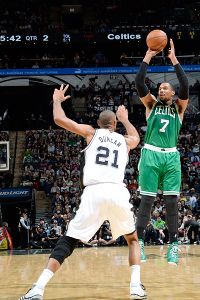 D. Clarke Evans/NBAE/Getty
Jared Sullinger puts up a shot over Tim Duncan on Wednesday night.Coming off Boston's most uninspired performance of the season, coach Brad Stevens inserted both Jared Sullinger and Kelly Olynyk into the team's starting lineup at the big-man positions. After encouraging early returns from preseason play, it seemed like only a matter of time before the duo got a chance to assert themselves as the team's frontcourt of the future. That opportunity may have come a little earlier than most expected, and maybe before the duo is completely ready, but as Stevens evaluates the talent on his roster and begins to identify the building blocks around which the team will be built moving forward, it's clear that Sullinger and Olynyk factor heavily into Boston's future plans.
Sullinger, a second-year forward matched up on Tim Duncan, registered team highs with 19 points and 17 rebounds over 31 minutes, 24 seconds of floor time in Wednesday's 104-93 loss to the San Antonio Spurs. Rookie Olynyk, still learning to play at the center position, chipped in eight points, eight rebounds and three assists over 37:29.
As Stevens told reporters in San Antonio after the game, "The team that played tonight could be a real fun group to build with. That's what you take from here."
Stevens had to like the effort and competitiveness from his entire team, one night after getting absolutely trampled by the Houston Rockets. And it's hard to ignore the positives that occur with Sullinger and Olynyk on the floor together.
In 121 minutes of floor time, the Sullinger/Olynyk combo is plus-6 (not bad considering Boston has been outscored by 74 points overall this season). The advanced stats on the pairing are not particularly glossy, including a defensive rating of 104.1 (but that's only 1.5 points higher than Boston's season average). Boston's offensive rating with the pair (100.3) is a respectable 4.3 points better than the season average, and Boston rebounds at a rate that would put it among the league leaders in defensive and total rebounding percentages with that combo on the court. Maybe the most encouraging sign is that Boston's pace -- middle of the pack for the season (96.86 possessions per 48 minutes) -- leaps to 102.33 with Olynyk and Sullinger together. That would be tops in the league if maintained.
Sullinger has been nothing short of spectacular. The second-year forward has emerged as Boston's most consistent player despite enduring some ups and downs of his own while working his way back from offseason back surgery and still finding his wind. Olynyk has encountered typical rookie hurdles -- his shots aren't falling consistently, he's getting whistled for questionable fouls and his defense needs improving -- but the potential is obvious.
And while it's unclear how long Stevens will ride the Sullinger/Olynyk combo, these longer stretches together as starters will only help them develop individually and as a group. During Wednesday's game, the Sullinger/Olynyk two-man lineup was plus-8 in 26 minutes of floor time together. Boston's offensive rating (107) was off the charts when they were together (and a defensive rating of 95.8 wasn't too shabby, either).
Now imagine when Sullinger has his wind back completely (lumbar disc surgery in February left him immobile for months) or Olynyk's shots start falling (he's shooting only 39 percent from the floor and 18.2 percent beyond the 3-point arc). The rookie is too good for those struggles to stick around, and being thrust into a larger role should help bring him along defensively.
It's an enticing future with the Sullinger/Olynyk combo and we got a sneak peek on Wednesday.