During the Boston Celtics' recently completed (and winless) three-game road trip, shooting guard Avery Bradley averaged a whopping 21 field goal attempts per game (or roughly three times his career average of 7.1 attempts per contest). Despite putting up 19 points per game in that span, Bradley shot just 38 percent from the floor, leading many to wonder if he needed to be reeled in a bit.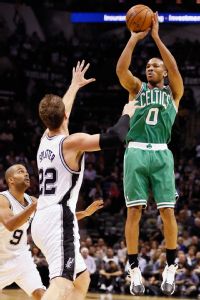 Soobum Im/USA TODAY Sports
Avery Bradley shoots against the San Antonio Spurs on Wednesday night.Here's one observer's opinion: Keep shooting, Avery.
The Celtics are a poor offensive team by almost every available metric. The team's offensive rating (points per 100 possessions) is 96, which ranks 26th in the league. Boston averages 0.87 points per possession, according to Synergy Sports data and that, too, is 26th overall. The Celtics are starting to pick up their pace, but have typically plodded this season. They are one of the league's worst spot-up shooting teams and don't get to the free throw line with any consistency. What's more, Boston doesn't have a go-to presence without Rajon Rondo, something made painfully obvious given Jeff Green's inability to consistently assume that role this season.
Celtics coach Brad Stevens is attempting to generate some additional offense on the first unit by shuffling the young combo of Jared Sullinger and Kelly Olynyk into the starting 5. If nothing else, the tandem's passing skills are going to create opportunities for their teammates and both are capable of giving Boston a jolt with their diverse offensive toolboxes.
But far too often this season, Boston's first-unit offense has sputtered and the team has settled for poor late-clock looks. With Green often content to dance around the perimeter, and most everyone beyond Sullinger (and Brandon Bass, too, at times) unwilling to be a consistent post presence, it's often fell on guards like Bradley and Crawford to fire away.
What Bradley appears to have realized recently is that teams are giving him the freedom to take that mid-range jumper so when he finds space coming off a pick-and-roll, he's not hesitating. And he shouldn't. Bradley is shooting an excellent 47.1 percent (40 of 85) from the mid-range overall this season, including 53.1 percent (17 of 32) over these last three games. As he struggles to reestablish the catch-and-shoot 3-pointer as a consistent weapon (he's shooting 23.8 percent on corner 3s this season), Bradley has made the mid-range his sweet spot and has resuscitated his own offense in the process.
For Boston, 14.7 percent of its offensive possessions have finished in the hands of pick-and-roll ball-handlers, according to Synergy Sports data -- the third highest play type on the team behind spot-up (15.4 percent) and transition (15.1). Bradley has the best numbers on the team averaging 0.906 points per play. He's shooting 50 percent (21 of 42) in those situations and has limited his turnovers by looking for his shot more than the pass since moving back to shooting guard.
The Celtics confirmed at season's start that Bradley isn't a very good offensive quarterback. He struggles when trying to run the offense from the point guard position. But he's been very good when he creates for himself off the bounce. Bradley is averaging 0.943 points per play on jumpers off the dribble. No one is asking him to be Steph Curry (1.1 points per play) or Monta Ellis (1.086) off the dribble, but that performance puts him in the same ballpark as Chris Paul (0.99), Kyrie Irving (0.958), and Tony Parker (0.946).
When Bradley excelled at the end of the 2011-12 season, taking Ray Allen's starting job, he lived on corner 3s and backdoor cuts. Right now, he's struggling in both of those areas. The optimist wonders if Bradley can reestablish those parts of his game, and continue to develop in the mid-range, which would ease some of the concerns about whether he's a two-way asset at the shooting guard spot.
And you can't help but wonder what having Rondo back on the floor will create for him later this season.
If Bradley's uptick in attempts were coming at the expense of better options for Boston's offense, it would be prudent to demand better shot selectivity. It is troublesome that Boston's offensive rating the past three games with Bradley on the floor is a mere 84.1, but among regulars, only Olynyk was in the 90s (90.1) during this stretch. Boston's offense as a whole has been poor.
As Olynyk regains confidence in his natural scoring abilities, as Sullinger continues to develop, and if Green displays consistent aggression on offense, then Bradley's shot attempts will naturally throttle back down. But right now the Celtics need somebody to be aggressive on offense and Bradley isn't being bashful.
Fire away, Avery.