BOSTON -- The narrative has been carefully crafted: a trim, orderly, storybook ascension of a folksy wonder boy with a youthful visage that belied the ample resume he constructed in shockingly quick fashion.
Brad Stevens joined the Boston Celtics with impeccable credentials. He earned them, advancing his basketball career by demonstrating uncommon poise, dignity and maturity for a 37-year old former Division III player.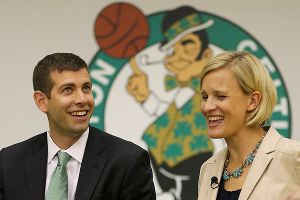 John Tlumacki/The Boston Globe/Getty Images
Where did Stevens take his future wife, Tracy, on their first date? A high school basketball game.
His college teams at Butler reflected his personality: disciplined, unselfish, with an emphasis on fundamentals and defense. Stevens is a basketball analytics disciple, using cutting-edge statistics to further educate himself on the game he so fervently wishes to master.
According to his mother, Stevens began watching game film at age 6. When he was a 20-something director of basketball operations at Butler, a weighty title that paid a mere $18,000, he spent 14 hours a day logging, categorizing, then editing tapes of defensive tendencies.
"Defense," mused Joe Nixon, his former DePauw College teammate. "Brad never played any defense. He was only interested in scoring."
There it is -- the first chink in the narrative. Brad Steven didn't play defense. Brad Stevens was, ahem, a gunner?
"Let's just say defense wasn't his thing," said his friend Josh Burch, another college teammate.
Stevens has been cast as an unblemished college basketball icon, a throwback Indiana Hoosier who, on his first date with college sweetheart Tracy Wilhelmy, drove her 1 1/2 hours to watch a high school basketball game.
"I told him it was a bad idea," said Burch. "The joke's on me, I guess. He took her, and she married him."
Burch and Stevens were seniors together, captains and best friends. Stevens exhibited a high basketball IQ, Burch said, but pegging him as a flawless prodigy doesn't begin to explain how Stevens arrived at this pivotal crossroad in his career.
"Everyone says, 'Oh, Brad was destined for coaching,'" Burch said. "Honestly, it's not one of the top 10 things I thought he'd do. It's easy, in hindsight, to glamorize everything he went through.
"But it wasn't fun what happened to us at DePauw."
It certainly wasn't storybook.