BOSTON -- The magic number appears to be 14. If the Boston Celtics commit anything north of that number in turnovers, go ahead and put a tick in the loss column.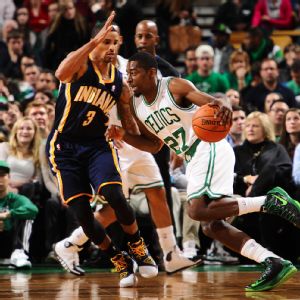 Brian Babineau/NBAE/Getty Images
Jordan Crawford made 10 of 12 shots and finished with 24 points but also had six turnovers.Nine times this season the Celtics have committed 15 turnovers or more, and nine times this season the Celtics have lost. In fact, the only time Boston has lost when dipping below that number is in Houston, where Boston turned the ball over five times in the opening quarter while the Rockets built a 22-point cushion. No amount of ball security was going to bring the Celtics back in that one.
After being plagued by ball security issues early in the season, Boston appeared to have halted the turnover locomotive by inserting Jordan Crawford at starting point guard with the goal of easing the ballhandling duties on Avery Bradley. Sure enough, Boston's team turnover percentage dipped from a league-worst 22.4 percent over its first four games to a mere 13.9 percent (fifth-best in that span) during a four-game winning streak.
Now Boston has dropped six games in a row and that turnover percentage has spiked back to 17.8 percent (fifth-worst in the league in that span). Boston is giving the ball away 16.8 times per game during the losing streak.
Maybe it should come as no surprise, but during this six-game losing streak, Boston owns the worst offensive rating in the NBA (90 points per 100 possessions). A group that already struggles to put points on the board is further shooting itself in the foot by regularly giving away the ball.
It really boils down to a very simple truth: The Celtics have a minimal margin for error and cannot afford careless turnovers if they want to be competitive.
Even rookie Kelly Olynyk admits it's pretty elementary.
"If you limit your turnovers, you're going to have a great chance to win the game," he said. "The more shots you're getting up, the more chances you have to make it, the more points you're going to put on the board."
And putting points on the board has been no easy task for these Celtics. When the team has struggled to generate offense, their frustration tends to seep into the defensive end, where they lose focus -- even if for brief spells -- and opponents go on runs that Boston simply is not able to overcome.