Was Saturday's effort the best game of Jordan Crawford's career?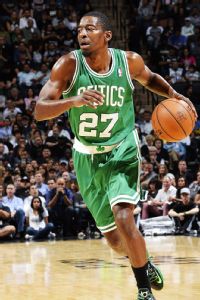 D. Clarke Evans/NBAE/Getty
Jordan Crawford has given Boston's sluggish offense a boost this season.If you judge solely by plus/minus, you can actually make that case. According to Basketball Reference's plus/minus data, Crawford matched a career high by finishing plus-24 while helping the Boston Celtics rally past the Atlanta Hawks 94-87 on Saturday night at Philips Arena.
The Basketball Reference data also suggests that Crawford has finished in the positive in little more than 30 percent of his career games. So just being on that side of the ledger is noteworthy. But Crawford didn't just chip in 12 points, 10 assists and three rebounds on Saturday. He made two key buckets in the final two minutes to help Boston snap a six-game losing streak.
That plus-24 matches Crawford's career best effort, from Valentine's Day 2012, when he scored 21 points off the bench in a 124-109 win in Portland. Crawford scored a team-high 24 points in a loss to Indiana on Friday night but lamented the team's inability to finish out the game as the Pacers motored away in the second half.
On Saturday, Crawford struggled with his shot early on, but the Celtics put the ball in his hands during crunch time and he rewarded their faith. After rallying from a 12-point deficit, Boston was up one with two minutes to go when Crawford came off a high pick-and-roll and blew past Al Horford to get into the lane. Two Hawks stepped up to defend, but Crawford gently floated in a layup for an 88-85 lead.
With a minute to go and Boston still up three, Crawford took the shot clock down before attacking the basket. He got a step on Jeff Teague and attacked Horford in the paint, finding a sliver of space to deliver a little 13-foot runner for a five-point cushion.
"He really wanted the ball in those moments, and I thought it was the best thing to get it to him," said Celtics coach Brad Stevens. "After he made the first couple of moves, the guys came back to the huddle and said, 'Put it in his hands.' Maybe it will be somebody else some other night, but tonight it was him."
So what do we make of Crawford's recent play? After joining the starting lineup early in the season, Boston reeled off four straight wins with his help. As the team endured a six-game losing streak, it appeared Crawford was coming back to earth a bit with his turnovers on the rise. He still gave the ball away four times on Saturday, but the Celtics were able to overcome it because of their team defense in the fourth quarter and Crawford's offensive exploits.
Through 15 games, Boston's offensive rating is 10 points better with Crawford on the floor (99.9) than off (89.9). Not surprisingly, the team's defensive rating is 2 ½ points worse than the season average with Crawford on the court, but the offensive burst negates that, considering Boston's offensive struggles this season. The Celtics rebound better with Crawford on the court and they turn the ball over fewer times as a team. Boston's pace perks up and its shooting percentages climb both overall and especially beyond the 3-point arc. Crawford is minus-24 overall in 412 minutes of court time, but the Celtics are minus-58 in the 308 minutes he's off the floor.
All of which suggests the team needs Crawford and his ability to make plays. Crawford handed out 10 assists Saturday, which included a pair of beautiful first-half alley-oop feeds to Brandon Bass and Jeff Green. He's not perfect and he's not a pure point guard, but the good tends to outweigh the bad with Crawford.
The only real downside is his struggles to prevent dribble penetration. Opponents have a habit of getting past Crawford and into the paint, which causes cracks in Boston's help defense. But Crawford uses his long arms and herky-jerky style to fluster opponents at times. His individual defensive numbers are surprisingly decent (he allows 0.761 points per play, ranking in the 75th percentile, according to Synergy Sports), but that data often ignores the times when teammates are forced into help situations to cover for him.
Saturday wasn't Crawford's best career outing, but the results are hard to argue against. Crawford continues to be a key element for Boston early in the season as the team waits for Rajon Rondo to navigate the final stages of ACL rehab. Crawford's role could get murkier from there, but for now he's averaging 12.1 points, 4.4 assists and 2.9 rebounds over 26.9 minutes per game.
Reflecting on Saturday's win, Crawford told reporters, "It feels good to win because it didn't seem like we were supposed to win."
Few expected Crawford to be a key part of any success Boston tasted this season, but he's been an integral part in all five victories. Maybe that's why his effort Saturday seemed so good.