The first 15 games of Vitor Faverani's NBA career have been every bit the roller coaster we probably should have anticipated as the 25-year-old Brazilian import gets acclimated to his new professional environment.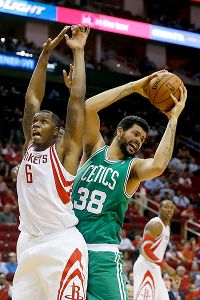 Scott Halleran/Getty Images
Contrary to expectations, Vitor Faverani's strengths have been rebounding and defense.Faverani emerged as the Boston Celtics' starting center to begin the regular season and, by Game 2, Vitor Fever had infected much of Celtics Nation as he went for 12 points and 18 rebounds against the Milwaukee Bucks.
Just as quickly as he broke through, Faverani regressed, and by Game 7 he was shuffled out of the starting lineup in favor of fellow rookie Kelly Olynyk. El Hombre Indestructible has seen inconsistent playing time recently, but his ride could be back on the climb.
Faverani turned in 11 points on 4-of-6 shooting with five rebounds over 14 minutes in Saturday's 94-87 win over the Atlanta Hawks. Faverani was plus-10 in his floor time, and after the game coach Brad Stevens noted how it was "good to see Vitor back at it."
With Olynyk sidelined for what Stevens suggested could be a couple of weeks with a sprained right ankle, Faverani is going to get another chance to find the consistency that he has lacked to this point.
Faverani is averaging 5.9 points, 5.3 rebounds and 1.3 blocks over 17 minutes per game. Boston's only pure center, the 6-foot-11 Faverani has shown offensive versatility (range to the 3-point line) while being a consistent rebounding presence at the other end of the floor.
Faverani leads the team with a total rebound percentage of 17.4 percent (ranking him in the top 25 in the league among qualifiers). He's grabbing 21.8 percent of defensive rebounds available during his floor time (only Kris Humphries and Jared Sullinger have better numbers on the Celtics) and a team-best 12.6 percent of offensive caroms.
Faverani has been a solid one-on-one defender, according to individual defensive data logged by Synergy Sports. He's allowing 0.717 points per play, which ranks him in the 85th percentile among all players. Among centers with at least 75 possessions defended, Faverani sits seventh in the league (one spot behind Indiana's Roy Hibbert).
Faverani also has been a solid rim protector. He owns the fifth best block percentage in the league (5.6 percent, putting him a fraction of a point ahead of Oklahoma City swatter Serge Ibaka), according to Basketball Reference. SportVU's player-tracking data shows that Faverani is allowing opponents to shoot just 43.3 percent at the rim -- a number that's not quite up to Hibbert's otherworldly 35.3 percent, but puts Faverani ahead of the likes of Dwight Howard (44.7 percent).