Consider this your periodic reminder of what Brandon Bass is contributing on the floor for the Boston Celtics.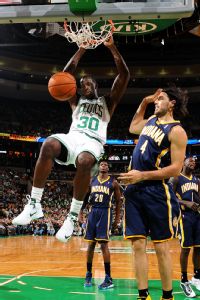 Brian Babineau/NBAE/Getty Images
The typically quiet Brandon Bass produces a loud dunk.Blue-collar Bass and his workman efforts tend to blend into the scenery and that's fine by the ninth-year forward. After Bass splashed his first career 3-pointer in Friday's win over the Cleveland Cavaliers, reporters were disappointed to learn that he had quietly ducked out of the locker room.
Bass loves living under the radar, but his contributions shouldn't. Boston is quietly on the fringe of being a top-10 defense (11th in defensive rating, but 10th in points allowed per possession) despite a sub-.500 record, and a good chunk of the success on that side of the ball is a product of Bass.
Among Boston's 11 regulars, Bass owns the best defensive rating on the team as the Celtics allow 98.1 points per 100 possessions when he's on the court. That's three points below the team's season average (101.1) and that rating spikes to 105.8 when Bass is off the floor.
Bass isn't a great rebounder and he often gives up size at the power forward position, but his athleticism gives Boston the flexibility to switch him in many situations and he is strong enough to joust with even the NBA's biggest bodies.
Bass also tops the team in points allowed per possession, giving up 0.694 points per play, according to Synergy Sports data. That ranks him in the 90th percentile among all NBA players, but narrow it down to those with at least 150 possessions defended and Bass ranks fifth in the NBA behind only Roy Hibbert, Tiago Splitter, Serge Ibaka and Chris Paul.
Here's the more impressive number: Opponents score against Bass on a mere 32.1 percent of total possessions. Bass is exceptional at limiting his shooting fouls (only 3.6 percent of total possessions defended), which drives his score percentage down. Only Splitter (31.9 percent) has better numbers of those over the 150-possessions threshold. Opponents are shooting just 34.6 percent overall against Bass this season.
For the season, Bass is averaging 10.8 points, 5.6 rebounds, 1.4 assists and 1.3 blocks over 28.8 minutes per game. His Player Efficiency Rating is the league average (15), but that's as high as his PER has been since joining Boston (for his career, it peaked at 16.5 during the 2009-10 season in Orlando). The knock on Bass always will be his rebounding, but he's doing a serviceable job on the defensive glass (grabbing 15.7 percent of available defensive caroms). His total rebound rate of 11 percent is poor for a power forward, but his career average is a mere 12.2. The Celtics need to keep a rebounding presence beside him to mask that deficiency.
The only other glaring downside with Bass at the moment is that the Celtics' offense has sputtered with him on the floor. The team owns an offensive rating of 93.5 in his 549 minutes of court time, but that's still only 3 ½ points worse than the team's anemic season average. Bass has struggled a bit with his jumper this season, finding more success running the floor in transition or even in the post, where he's made a concerted effort to be a more consistent presence.
The question with Bass is whether his future is in Boston. He's got one more season left at reasonable money ($6.9 million). That'd be easier for the Celtics to stomach if they didn't have a logjam at the power forward spot. Earlier this season, Bass briefly lost his starting job when coach Brad Stevens went with what most perceive as the frontcourt of the future in second-year center Jared Sullinger and rookie forward Kelly Olynyk. When Olynyk sprained his ankle after two games, Bass rejoined the starting lineup and is making his case to stick there.
At only 28, Bass is still young by NBA standards, but elderly on this young Celtics squad. A contender looking for a boost at the trade deadline might be able to snag Bass for the right combination of future assets (all without muddying their own books much).
The Celtics will miss Bass' steady contributions and hard-hat demeanor if he ever departs. The team brought him in to replace Glen Davis two seasons ago, and might have sacrificed a tiny bit of talent while eliminating a lot of headaches. He's well-respected in the locker room, sharing a tight bond with team leaders, including Rajon Rondo.
Bass just does his job and does it well, which is easy to forget. The team's performance with him on the floor keeps reminding us.