BOSTON -- His late-game block drew him a large postgame media crowd and Boston Celtics forward Brandon Bass used the stage to set the record straight on that No-Pass Bass moniker he has carried during his NBA career.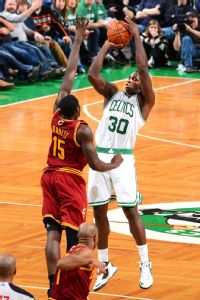 Brian Babineau/NBAE/Getty
Brandon Bass is showing he can do more than shoot this season."I never agreed with that nickname," said Bass. "[Rajon] Rondo just put me in position to catch-and-shoot [in the past]. If you listen to some of the game film, when he passes to me, he would say, 'Shoot!' even if somebody was on me. That's why I was No-Pass Bass."
Bass, who had never averaged an assist per game before arriving in Boston, has seen that helper tally slowly climb. Last season he handed out 84 assists in 81 games, reaching the 1-assist-per-game plateau for the first time, and this season he's already at 44 assists through 30 games for nearly 1.5 assists per contest.
OK, so Rondo doesn't have to worry about Bass stealing his point guard duties while he rehabs, but Bass is taking great pleasure in showing off his passing skills this season.
For the fourth time during the 2013-14 campaign, Bass tied his career high of four assists during Saturday's 103-100 triumph over the Cleveland Cavaliers. He added 15 points on 5-of-8 shooting with six rebounds, and two blocks (including the late-game swat on Dion Waiters that helped preserve the win).
Informed of his assist-happy night, Bass quipped, "That's what I do, man." Turning more serious, he added, "I didn't know that. I don't really keep up with the stats. But it's cool to be able to make plays for my teammates. I told Rondo, I'd rather get an assist, a nice assist, versus a dunk. I've been dunking my whole life. It feels good to make a play for somebody else."
Bass' work near the basket is generating more opportunities for his teammates. In the first quarter, he drew a double team in the paint before kicking the ball out to Jeff Green for a 3-pointer from above the arc. The two joined forces again soon after, this time with Bass passing to the corner off a double team on the right blocks, for another Green triple.
Bass found Crawford for a 3-pointer in the third quarter, then dished off the drive to feed Humphries for a baseline jumper later in that frame. That's 11 points generated off Bass feeds.
Pretty soon, you're going to have to find him a new nickname.
A month ago you might have been able to needle Bass about his 3-point shooting (he had missed the first 16 of his nine-year career). Now he's made his last two, both against the Cavaliers, and laughed while noting, "There's just something about Cleveland. They like to see me shoot 3s, so I was able to hit one."
Bass is enjoying getting to show off other aspects of his game this season.
"This year, it's just a different way," said Bass. "Everything is different. I've been able to show different things by everything being different -- different players, different system, and it's cool that I can succeed in different scenarios. I just want to continue to help my teammates in any way I can, and hopefully lead us to wins."
A handful of postgame notes: