When discussing the team's decision to excuse Keith Bogans last week, Boston Celtics president of basketball operations Danny Ainge noted that the team preferred to play guys that are "really hungry" and "dying to play" while suggesting there was a greater value in trying to develop those players.
Enter Chris Johnson.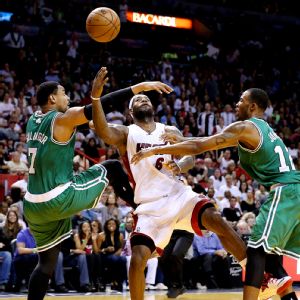 Robert Mayer/USA TODAY Sports
Celtics forward Chris Johnson, right, helps defend LeBron James, middle, during Tuesday's game in Miami.Signed out of the D-League on a 10-day contract on Friday, the 23-year-old Johnson made his Boston debut on Tuesday night against the two-time defending champion Miami Heat and contributed 11 points on 4-of-7 shooting with three rebounds, an assist and a steal over 25 energetic minutes in a 93-86 loss at AmericanAirlines Arena.
A month ago, Johnson was playing a D-League game against Springfield while waiting for an NBA opportunity. If his 3-pointer in the final minutes of a tie game had fallen on Tuesday, Celtics fans would have been prepping him for a different sort of trip to Springfield.
On a night that Boston had to rally from an early 18-point hole, Johnson was one of the bright spots, finishing the game a team-best plus-7 in plus/minus. A couple of corner 3-pointers gave Johnson some early confidence, but he was just as impactful on the defensive end, where he buzzed around the perimeter displaying his energy calling card and using his length to disrupt passing lanes.
When the Celtics rallied in the fourth quarter, Johnson was in the middle of it all.
A quick little crossover after taking a pass at the 3-point arc on the left wing put Mario Chalmers in his rear-view mirror as Johnson accelerated to the hoop while finishing an and-one layup over Chris Andersen. The free throw made it a one-point game with 6:47 to play. A short time later, Johnson muscled a rebound away from Chalmers and delivered a putback to keep Boston within a possession.
But maybe Johnson's best moment of the night came when he jumped a cross-court pass from LeBron James, stepping in front of Ray Allen to intercept the ball before handing off to Rajon Rondo to spark a fast break that finished with a Kris Humphries dunk to put Boston out front 86-84 with 3:08 to play.
The game slipped away from there for Boston, but that shouldn't diminish Johnson's debut in green.
Celtics coach Brad Stevens gushed about Johnson's effort after the game and the coach's advice to him -- "Stay hungry" -- echoed what Ainge had said last week.
Johnson is playing for his NBA future. The Celtics have a couple of open roster spots, but someone is going to have to kick down the door to get more than a couple of 10-day contracts at the moment. Boston needs to preserve roster spots and money to navigate the trade deadline, and would also save some cash by inking any future-minded players closer to the end of the season.
Johnson certainly turned heads with Tuesday's effort. If he continues to show promise, he can guarantee himself at least one more 10-day contract and force Boston to decide whether to commit to him long term after that (or risk another team scooping him up).
But let's not get too far ahead here. Johnson's first 10-day deal will expire after Sunday's visit from the Brooklyn Nets (the team he spent training camp with in October) and that means at least three more games that Johnson could get an opportunity to prove himself.
Stay hungry, stay in the NBA.
For his part, Johnson seems humbled by the opportunity in Boston.
"I'm fortunate, blessed to be here," Johnson said last week upon his arrival. "I'm just going to make the most of this situation. When my number is called, just be ready and provide energy, do all the little things to show that I belong here."
What exactly can Johnson bring?
"Just provide energy," he said. "Do the little things that can help the team win, rebound, defend, get on the floor and get 50-50 balls."
That's exactly what he Johnson did Tuesday, playing with a sense of urgency that sometimes escapes those with the security of a guaranteed deal. There's probably a stock boy at the Celtics pro shop digging through old inventory hoping Boston can repurpose some of the No. 12 JaJuan Johnson jerseys that never sold.
Now it's up to Johnson to stay hungry.