The most popular question in the Celtics mailbag when we tore it open: Should the Celtics sign Jimmer Fredette?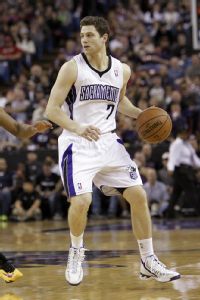 AP Photo/Rich Pedroncelli
While Jimmer Fredette might add some offense, the other aspects of his game are lacking.This is the 2013-14 season, everybody! We're at the point where fans are wondering if castaways from the Sacramento Kings(!!!) can help the Celtics navigate their rebuilding process. With reports indicating that Fredette will soon be bought out, some fans want the Celtics to pounce on the former first-round pick.
I get it. The trade deadline passed with no activity from the Celtics and some fans were upset because even the tiniest of moves offers savior-like hope when your team is struggling. In a year where some fans were begging for a Jordan Crawford-like acquisition, getting Fredette off the scrap heap would be the perfect mea culpa from Danny Ainge for ruining their deadline week.
Fredette is obviously a very intriguing offensive player and his ability to handle the ball adds to his value. But he doesn't rebound, his turnover percentage has spiked this season and his defense is atrocious.
The Kings allow 105.7 points per 100 possessions, the seventh worst total in the NBA. But that number spikes to 108.6 when Fredette is on the court. According to individual defensive data logged by Synergy Sports, Fredette allows 0.948 points per play, ranking in the 18th percentile among all league players.
Boston fans love reclamation projects. And, after what the team accomplished with Jordan Crawford, you wonder if they could get Fredette on track. The Celtics have an open roster spot, enough available money to add a serviceable body before the end of the season, and some available backcourt minutes due to Avery Bradley's ankle injury.
But the guess here is that Fredette would be better served with a contender, where expectations would be minimal and he could try to jump-start his career in a defined offense-focused role.