BOSTON -- Boston Celtics point guard Rajon Rondo could have blown out BirthdayGate faster than a set of candles with a quick gust of contrition.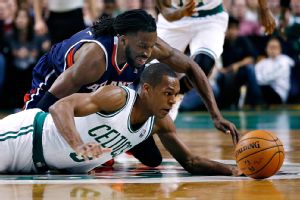 AP Photo/Elise Amendola
Rajon Rondo's 22-point, 11-assist effort against the Hawks took a backseat to talk about his absence from the team on its recent road trip.Not scheduled to play on the second night of a back-to-back on Saturday, Rondo elected to stay behind in Los Angeles and reportedly celebrated his 28th birthday with friends and family rather than accompany his teammates to Sacramento.
It's unclear what vetting process took place before Rondo stayed behind. Coach Brad Stevens said Wednesday that he talked to Rondo before the team departed, but when asked if Rondo made the right decision by staying in Los Angeles, the coach's response (or lack thereof) was telling.
"It's something that I've certainly spent a lot of time thinking about," Stevens said before echoing an early sentiment that he's moving forward.
Rondo declined to chat with reporters before Wednesday's game against the Atlanta Hawks, but after putting up 22 points and 11 assists while helping the Celtics snap a five-game losing streak, all Rondo seemingly had to do was express a bit of repentance and this story probably would have faded away.
But asked what he makes of all the commotion stemming from his absence in Sacramento, Rondo remained familiarly defiant.
"I haven't really read much about it," he said. "I heard a lot of comments. Nobody knows the story, so [the media can] keep making up every story you guys possibly can."
So, then, what is the story?
"It's my business," Rondo said. "It's my choice."
Part of what makes Rondo great is his stubbornness. But it's also his worst flaw. As any married man knows, there are simply times you must admit fault, even when you're absolutely certain than none exists.
So even if Rondo had all the necessary signatures for his L.A. spree day, he should have realized, at least amid the fallout, that it simply looked bad.
Even if it didn't ruffle his teammates' feathers (veteran Gerald Wallace said he had no problem with Rondo's decision) and even if there was precedent for such a move (Rondo did not travel to Milwaukee for a back-to-back earlier this month), and even if Rondo made countless other road trips while rehabbing at the start of the season, it would have been very easy to put this in the rearview mirror with a simple, "I made a poor decision."
Instead, BirthdayGate festers.
So Rondo's very vocal group of critics will continue to wonder out loud if he had ulterior motives for his Los Angeles staycation. They'll rant about how a player who was irked by trade rumors might have been thumbing his nose at the organization for letting him twist in the trade winds. They'll say he doesn't understand or respect his role as captain of this decorated franchise.
They'll say he's another year older, but no more mature.