BOSTON -- Boston Celtics rookie point guard Phil Pressey has done the impossible this month: He's made one of the league's most inefficient offenses perform as if it were among the NBA elite.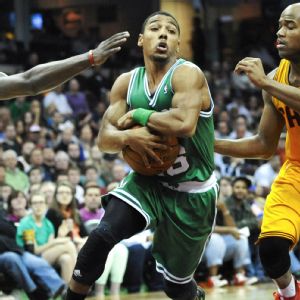 David Richard/USA TODAY Sports
Phil Pressey attacks the basket against the Cavaliers.Through six games this month, the Celtics are averaging a ridiculous 114.3 points per 100 possessions with Pressey on the floor. That's an insane number for a team that owns an offensive rating of 99.6, third worst in the league this season. But Pressey has jump-started Boston (his rating is 8.7 points higher than the team's average this month) while playing 26 minutes per game in six appearances in April, including leading the team to consecutive victories in spot starts for Rajon Rondo.
If anyone was paying attention to these lottery-bound Celtics, we'd fully expect an irrational sports radio caller to suggest that Pressey should be starting over Rondo. They'd note how the rookie has a 6-4 mark as a starter, while the Celtics are a mere 24-43 the last two seasons when Rondo plays. A heightened sample size would almost certainly bring Pressey back to earth a bit, but it's undeniable that he's making good things happen during his time on the floor.
Consider this: Pressey ranks 18th in the NBA in points created by assists per 48 minutes at 23.3, according to the league's player-tracking data. That number is better than the likes of Deron Williams (22.8), Kyle Lowry (22.7) and Tony Parker (22.1).
For the season, Pressey is averaging 3.1 assists over 14.7 minutes per game in 73 appearances. Zoom in on April, and he's handing out 7.5 assists over 26 minutes per contest in six games, including 39 helpers over his last four appearances while reaching double figures in helpers in all three games he started in that stretch.
But maybe more important is that Pressey has found ways to impact the game beyond creating plays. His ability to run an offense has never been in question, nor has his court vision. The knock on Pressey always has been an inconsistent jump shot and an inability to keep teams honest on the offensive end.
In April, he's averaging 5.8 points per game while shooting 42.9 percent from the floor. He still has strides to make with his 3-point shot, but he's attacking the basket more and, on Saturday in Cleveland, the 5-foot-10 guard showed off his hops with a putback dunk in transition that caused the Boston bench to do a double-take.
And hustle plays have become a staple for Pressey lately. On Friday against Charlotte, he went to the floor late in the third quarter for an effort-dripping steal before feeding Kelly Olynyk for a layup that sent the Garden into a frenzy. Later in that game, when Jared Sullinger missed a 3-pointer trying to seal the win in the final seconds, Pressey ran toward an open paint and managed to keep alive a rebound by tipping it up in the air. A teammate secured the rebound and forced Charlotte to foul in a one-point game.
Then there's Pressey's defense. While the team numbers have been an eyesore this month -- Boston's defensive rating with Pressey on the floor is 111.1 in April, negating some of his offensive exploits -- coach Brad Stevens has praised Pressey's individual defense and tenacity against bigger ball-handlers.
"Phil's got a lot of pride," Stevens said. "He's a tough guy. He's a very good defender, very good at the point of attack. ... He's got a little bit of riverboat gambler -- it's his greatest strength and greatest weakness at times -- but he's been thrust into a tough spot because sometimes you play, sometimes you don't. Sometimes you start and play 40 minutes, sometimes you play three or five [minutes]. And he's handled it very well, very maturely."
Maturely enough to say that Boston's signing of Pressey to a three-year, minimum-salary deal after he went undrafted was one of the better moves of its offseason. The final two years of Pressey's deal are nonguaranteed and, barring an influx of ball-handlers, it's getting harder to imagine him not having a spot as a backup point guard on this team next season.
As Jared Sullinger noted: "[Pressey] never quits. You've also got to understand, that's a lot of built-up energy when you play six minutes here, 15 minutes here -- 'Oh, I'm starting tonight? I'm getting 30 minutes?'"
For his part, Pressey seems to take everything in stride, regardless of whether he's playing well or not. One thing that's clear is that he feels like belongs in the locker room.
He's only confirmed it with his play lately.