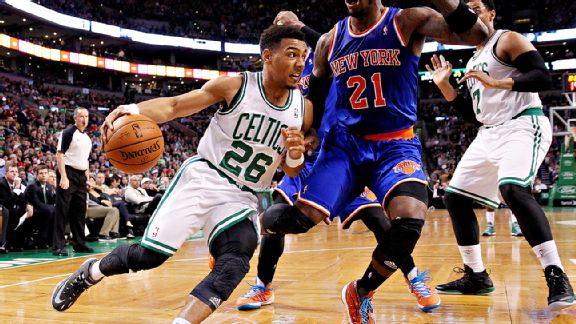 Greg M. Cooper/USA TODAY Sports
Phil Pressey proved he belongs at the NBA level this season.With the Boston Celtics' 2013-14 campaign in the rearview mirror, we've busted out our red pens and assigned grades to each player based on their individual performances this season. Our annual reminder that players are graded based on expectations versus personal performance. This is the seventh in a series of end-of-the-season report cards:
Player: Phil Pressey
2013-14 base stats: 2.8 ppg, 1.4 rpg, 3.2 apg, 30.8 FG%, 26.4 3PT%
2013-14 advanced stats: 0.587 Off ppp (4th percentile), 0.87 Def ppp (50th)
2013-14 salary: $490,180
Season in a paragraph: Pressey went undrafted after his much-scrutinized decision to leave Missouri after his junior season, but played his way onto the Celtics' roster at summer league in Orlando. From there he proved he belonged at the NBA level over the course of 75 appearances as a rookie. Pressey made 11 starts while pinch-hitting for Rajon Rondo as Rondo worked his way back from ACL surgery and proved he can quarterback a game. While Pressey was one of the most inefficient scorers in the league, his shooting percentages did improve each month. Pressey finished the season ranked fifth among all rookies in both assists and steals per game.
Season highlight: Over the final six games of the season, Pressey averaged 7 points, 8.7 assists, 3 rebounds and 1.3 steals over 29.8 minutes per game. He shot 40 percent from the field during that span. Most impressively, Boston's often-lethargic offense averaged a whopping 110.4 points per 100 possessions with Pressey on the floor during those six games (only offset by Boston's defensive indifference late in the year). In four starts during that six-game span, Pressey averaged 10 points, 11.8 assists, 4.3 rebounds and 2 steals per game.
Season lowlight: It's easy to forget now, but Pressey was an afterthought at the start of the season. Even without Rondo, Boston's guard depth chart was overstocked (albeit mostly at the 2 guard) and Pressey logged three consecutive DNPs after playing only four minutes on opening night. He got his foot in the door soon after and two trades in early January blew that door wide open for him, even as Rondo returned later that month. From that point, Pressey logged most of his starts on the second night of back-to-backs when Rondo rested.
Final grade: B
Teacher's notes: We're suckers for progress, but isn't that what this season was about? Many were surprised the team guaranteed Pressey's contract for the 2013-14 season; now we'd be surprised if he wasn't on the end of the roster next season despite the fact that his final two years are nonguaranteed. Pressey clearly needs to spend the summer working on his jump shot as teams were openly challenging him to shoot from the perimeter. He made strides with his jumper and he got more comfortable attacking the basket later in the season. His court vision is undeniable. The hustle plays that Pressey made late in the year earned him special mention from coach Brad Stevens. The naysayers won't be able to get past his offensive struggles. Yes, of players with at least 100 possessions finished, Pressey ranked dead last (202nd overall) in the league while generating a mere 0.587 points per play, according to Synergy Sports data. But Synergy also has a metric called "plays + assists" that factors in point creation, and Pressey ranked in the 87th percentile there at 1.242 points per play. Not too shabby when you consider Rondo averages 1.317 points per play under the same metric.
What's next?: An unforeseen influx of pure ball-handlers would be the only thing that would make Pressey's roster spot dicey next season. The Celtics long have needed a serviceable ball-handler at the end of their bench to provide a steadying presence when Rondo isn't on the floor. Given his bargain price, the guess here has been that Pressey will get a chance to further develop his game in Boston. Few players on the team made more encouraging progress this season than Pressey.
Honor roll: Click HERE to read past report cards.
Don't agree with teacher? Just want to sound off on Pressey's 2013-14 season? Leave your thoughts in the comments section.