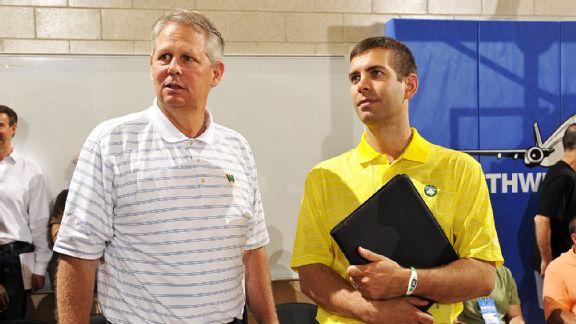 Fernando Medina/NBAE/Getty Images
Danny Ainge and Brad Stevens are tasked with getting Boston back on track.With the Boston Celtics' 2013-14 campaign in the rearview mirror, we've busted out our red pens and assigned grades to each player based on their individual performances this season. Our annual reminder that players are graded based on expectations versus personal performance. This is the 15th and final in a series of end-of-the-season report cards:
Coach: Brad Stevens
Season in a paragraph: After six seasons (and two national title game appearances) at Butler, college wunderkind Brad Stevens was Boston's surprise replacement following Doc Rivers' surprise dash out west. Stevens endured more losses in his first NBA season (57) than his entire Butler tenure (49) but patiently navigated the first-year turbulence by keeping the focus on progress. Stevens relentlessly prepared for games and never stopped coaching even when games got away from his team. He was universally lauded by his coaching brethren for his first-year efforts.
Final grade: B+
Teacher's notes: There are those that will argue that coaching is a bottom line business and 25 wins deserves a much harsher grade. To that, we wonder what in the world could have been expected from a first-year coach operating with a heavily flawed roster. Boston made it a habit of taking games to the final buzzer, even if it lost most of those contests. Stevens kept this rebuilding team, one that endured it share of injuries this season, engaged for longer than your typical non-playoff team. He's his own harshest critic and admitted the other day there's plenty he'll look to improve on next season, but he put together a nice rookie campaign considering the circumstances.
---
General Manager: Danny Ainge
Season in a paragraph: Ainge ushered in the long-anticipated roster overhaul by trading Kevin Garnett and Paul Pierce to the Brooklyn Nets for a trio of future first-round picks. The same night that deal was put in place, Ainge and his staff shuffled up three spots to snag Kelly Olynyk at 13th overall. Ainge couldn't do much else over the summer, leaving Stevens with a flawed roster lacking a true center and overcrowded at multiple positions. Regardless, all moves were made with the future in mind and Ainge helped position Boston to accelerate through the rebuilding process with his shuffling, which included two January deals that unclogged the payroll and brought back some additional draft picks.
Final grade: B+
Teacher's notes: We won't know just how much of a heist the Brooklyn deal is until five years down the road, but early indications are encouraging, particularly given the growing value of first-round picks. Ainge was quiet at the February trade deadline, but made two moves in January, clearing Courtney Lee's cap clog and moving Jordan Crawford and MarShon Brooks (two players without futures here) for what will likely be a collection of second-round picks. Ainge still has plenty of work to do, but Boston is well positioned with its treasure trove of draft picks, tradable contracts (hey there, Keith Bogans), and trade exceptions (like the $10.3 million one received in the Brooklyn deal).
Honor roll: Click HERE to read past report cards.
Don't agree with teacher? Just want to sound off on the 2013-14 season for Stevens and Ainge? Leave your thoughts in the comments section.