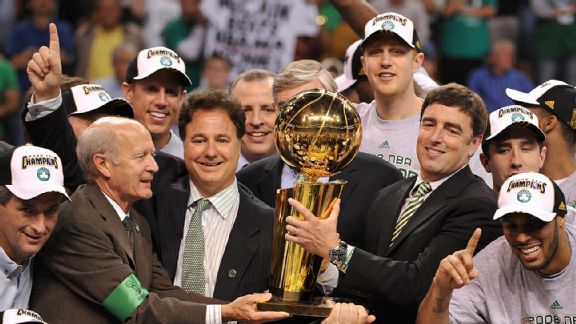 Gabriel Bouys/AFP/Getty Images
Celtics co-owner Steve Pagliuca, third from left, hopes to bring Boston some draft luck on Tuesday.Boston Celtics co-owner Steve Pagliuca has been inundated with good luck charms and advice since it was announced that he would represent the team on the podium at Tuesday's NBA draft lottery in New York City.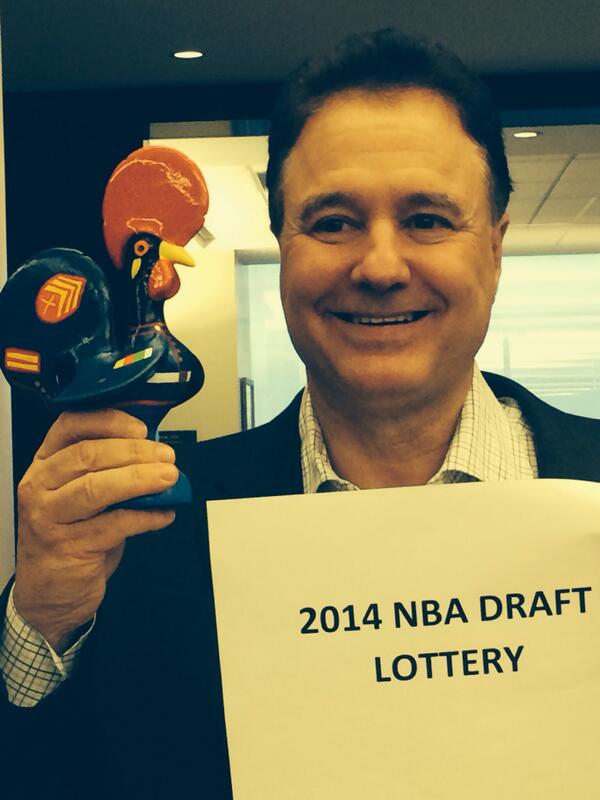 Celtics co-owner Steve Pagliuca and the Rooster of Barcelos.Pagliuca decided almost immediately that he would wear a vintage leprechaun-speckled tie that Red Auerbach gifted him when the new ownership group visited shortly after purchasing the team in 2002. Pagliuca said it's the same tie he wore when the Celtics clinched their 2008 championship with a Game 6 victory over the Lakers.
But Pagliuca is also packing a handcrafted Rooster of Barcelos that arrived recently as a gift from Robert Sherman, the U.S. Ambassador to Portugal. The small figurine, which Pagliuca guessed was maybe 8 inches tall, was painted by Marines guarding the embassy and is a symbol of good luck in Portugal.
"There's a story about a guy traveling in Spain, who is accused of stealing silver and is sentenced to death," explained Pagliuca. "He [told the judge], look, that rooster will jump off your plate if I'm innocent and it did, so they didn't hang him. Later, he went to Barcelos and carved the statue and it became a symbol of good luck."
Pagliuca's rooster will now travel in his briefcase to New York with hopes of bringing good fortune to Boston and reversing its lottery luck. Meanwhile, the NBA helped produce an internet stream for the Marines stationed at the embassy to watch the draft lottery live (a five-hour time difference will make it around 1:30 a.m. in Portugal when Boston learns its fate).
Pagliuca joked his inbox has been overflowing with suggestions from Celtics fans recently. He can't walk down the street without hearing from well-wishers. The other day a box of lucky charms arrived from the Middle East.
"The problem is, everyone thinks we're going to get the No. 1 pick," said Pagliuca. "We'll need a little good luck when you consider we only have a 10.3 percent chance. But we appreciate the optimism."
The Celtics own a 33.4 percent chance at a top 3 pick, but the odds lean heavy toward emerging with the fifth or sixth selection.
Pagliuca admitted he's a little nervous in advance of Tuesday's drawing, noting, "the hopes and dreams of Celtics Nation are upon us getting the right numbers," but was quick to point out that a deep draft will take some of the sting away if the Celtics fail to vault into the top 3.
He's been reminded by those that have endured the lottery process to simply enjoy the moment. What happens with the ping-pong balls is outside of his control. In fact, it's team president Rich Gotham who will be sequestered in the drawing room an hour before the actual television unveil to watch the live drawing.
Pagliuca will serve as the face of the Celtics and laughs when told how Celtics fans still recall Tommy Heinsohn's less-than-enthralled reaction when Boston learned it landed the fifth pick -- the worst possible scenario -- in the 2007 draft lottery.
"I think it's just an honor to be part of experience," said Pagliuca. "I will be a gracious person if it doesn't go our way. There's always a silver lining. The lottery didn't go our way in 2007, but that pick helped us get Ray Allen, then [Kevin Garnett] through trade, and we won a championship. And this one is stronger, it's a deeper draft than that time. The silver lining will be that we simply move on to Plan B."