Before one game late in the 2013-14 season, Boston Celtics coach Brad Stevens had been talking glowingly about the intangibles of a player when the conversation swung to a more general question about the best qualities an individual could bring.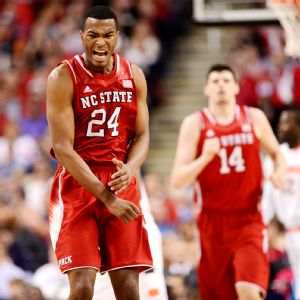 Phil Ellsworth/ESPN Images
North Carolina State's T.J. Warren was third in the nation with 24.8 points per game.Stevens pondered the inquiry for a moment, then smiled while noting that being able to score 35 points per game wouldn't be a bad thing for a player.
Yes, even a coach who puts a high value on the intangibles knows that scoring comes at a premium in the NBA. Those who can do it consistently often are some of the most valued players in the league, even if they lag in other areas.
As the 2014 NBA draft approaches, the Celtics clearly are intrigued by those who can score the basketball.
"We struggled to score this year and that matters," Celtics director of player personnel Austin Ainge said. "We're going to have to address it, and that might be through the draft, it might be through free agency, it might be via trade. That's an issue."
Ainge was quick to note that the Celtics "need to get better on both ends of the court," but the defensive regression at the end of the season further exposed Boston's inability to generate sustained offense.
The Celtics were not a good offensive team by any metric last season. Boston ranked 27th in offensive rating (99.7 points per 100 possessions) while averaging 96.2 points per game (26th) and shooting 43.5 percent from the floor (28th). The Celtics didn't get to the free throw line very often, turned the ball over at a high rate and had one of the lowest effective field goal percentages in the league (which adjusts for value of 3-point shots).
One glance at Boston's anemic late-game numbers in clutch situations further highlights a team desperate for go-to options that can consistently generate points.
Picking at Nos. 6 and 17 in the draft, it's unlikely that Boston is going to find the sort of presence that will immediately remedy their offensive woes, but there is talent available that can help steady the offensive roller coaster.
That list is headed by the likes of Creighton's Doug McDermott, who led the NCAA while averaging 26.9 points per game while shooting 45.4 percent beyond the 3-point arc. McDermott is expected to work out for Boston later this week, as will Michigan shooting guard Nik Stauskas, one of the best pure shooters in the draft.
Both McDermott and Stauskas, along with Michigan State's Gary Harris, are projected to be picked in the back half of the lottery, or somewhere between the Celtics' two current picks. While they could either shuffle up from 17 or move back from 6 to nab one of the pair, it would seem more likely that the Celtics would add the best available player at No. 6, even if that's someone like Arizona's Aaron Gordon (despite his offensive rawness).
But if the Celtics are still in the market for scoring at No. 17, there likely will be options who can help.
North Carolina State's T.J. Warren averaged 24.8 points per game last season, third best in the nation behind McDermott and Niagra's Antoine Mason. Even with an inconsistent 3-point shot, Warren put up big scoring numbers while shooting 52.5 percent from the floor.
At the draft combine in Chicago last month, Warren glowed about his interview with the Celtics and said he felt he could really help the team's scoring needs, all while downplaying the notion that he doesn't have deep enough range on his jumper.
"I shoot a lot better than what my percentages say this past year," said Warren, a 6-foot-8 small forward who shot 62.2 percent his freshman season at NC State. "I just want to prove my worth from the 3-point line and, me, just being in the NBA, I'll have a lot of time to work on it, so I would get a lot of reps and a lot of time."
After Warren's workout here last week, Ainge said of the swingman: "You just put him on the court and he's going to find a way to score. I don't even think you need to run plays for him and he'll find a way to score. He's a talented guy."
Warren's workout in Boston also featured P.J. Hairston, who averaged 21.8 points per game in 26 appearances in the NBA D-League after being dismissed from North Carolina.
Asked about what he's trying to show at these workouts, Hairston noted, "My goal for myself is just to go in and play hard. If I'm having an off day, I just try to do other things -- be a vocal leader and just show that I can be a leader on the court. And making shots, of course. That's the one thing that I want to do, being able to put the ball in the hole and show the coaches that I can score and be a team player as well."
Established scoring doesn't come cheap at the NBA level and teams often overpay for the services of scorers. The draft is a chance to find young offensive talent and nurture it. The Celtics saw positive advancements from the likes of Avery Bradley and rookie Kelly Olynyk this season. A healthy Rajon Rondo should aid Boston's overall offensive consistency next season.
But there remains a clear void for scoring and the Celtics will be intrigued by those draft options that can help fill it.